GENERAL LIBRARY
---
The college has a modern general library with a robust collection of over 160000 volumes of books in 41251 titles on different disciplines covering all major fields of Science, Humanities, and Management. Besides the general library, each department has its own library, containing the major portion of the collection. The Library subscribes to about 200 periodicals which include national & international journals, and national magazines subscribed by various departments. Many English and Tamil daily newspapers and magazines are also subscribed.
Open access system is observed in the library. The Library functions such as acquisition, circulation control, cataloguing and serials control have been automated using an integrated software.
A modern digital library network with high speed internet access is also housed in the premises. Reprographic facilities with printer & CD writer are provided for. Separate Sections for Reference Material, Book Bank, Periodicals, and Project Reports are provided for easy access.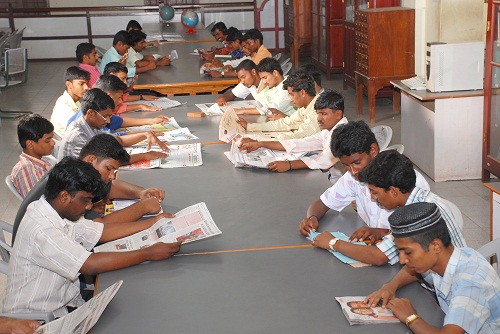 Library Information
| Particulars | Quantity |
| --- | --- |
| No. of Volumes in the General Library | 34756 |
| No. of Titles in the General Library | 8462 |
| No. of Volumes in the Department Libraries | 141270 |
| No. of Titles in the Department Libraries | 40129 |
| No. of National Journals / Magazines | 108/84 |
| No. of International Journals | 41 |
| No. of Tamil Newspapers | 9 |
| No. of English Newspapers | 6 |
| No. of Tamil Magazines | 30 |
| No. of English Magazines | 54 |
| No. of Back Volumes of Journals | 750 |
| No. of Books in the Book Bank | 2480 |
Books in the Department Library
Sl. No.
Department
Volumes
Titles
1
GENERAL LIBRARY
34756
8462
2
ARABIC
5411
1312
3
BOTANY
4753
1240
4
BIODIVERSITY
49
48
5
BIOINFORMATICS
358
250
6
BIOTECH
767
607
7
CHEMISTRY
7042
1857
8
COMMERCE
17637
2443
9
COMPUTER SCIENCE
11516
2844
10
DEENIYATH
3
3
11
ECONOMICS
9638
1027
12
EDUCATION
352
281
13
ENGLISH
14965
3349
14
FASHION TECHNOLOGY
152
120
15
HOTEL MANAGEMENT
247
104
16
HISTORY
4751
1905
17
INFORMATION TECHNOLOGY
1968
440
18
MATHS
12585
2413
19
MBA
14496
9469
20
MCA
1237
240
21
MICROBIOLOGY
413
332
22
NUTRITION & DIETETICS
539
425
23
PHYSICS
7947
1809
24
SOCIAL WORK
529
299
25
TAMIL
18474
5719
26
ZOOLOGY
5441
1593
GRAND TOTAL
176026
48591
Library Working Hours
| Day | Working Hours |
| --- | --- |
| On Working Days | 08.15 a.m. to 06.15 p.m. |
| On Holidays | 09.30 a.m. to 04.00 p.m. |
Rules & Regulations

All the students of the College are members of the library.
Books will be issued only on presentation of the Library Card bearing the name, class, roll number and signature of the student.
Students are entitled subject to the rules herein mentioned, to keep a book for a fortnight from the date of issue. If the Book is not returned on or before the due date, a fine of Rs.1 per day including holidays will be levied. The student will not be allowed to use the library till fine is paid and the book returned. Books due on holidays may be returned without fine on the working day immediately following Volumes borrowed for the vacation should be returned within three working days after the reopening of the college. Otherwise the usual fine will collected.
No one is allowed to sub-lend the books taken out by him.
Students must, on receiving a book, examine and report to the Librarian any damage found therein. Otherwise they will be held responsible for any damage that may afterwards be detected.
A book returned to the Library should contain a return slip showing the roll number of the student returning and the catalogue number of the books.
Absence from the college will not ordinarily be admitted as an excuse for delay in the return of the books.
All payments including fine towards the library shall be paid at the college office and the receipt shown to the librarian.
The Librarian may recall any book at any time.
Strict silence should be observed in the reading room.
Students may, without previous notice, call for books which are marked "Reference" or a periodical for consultation which will not be lent out.
All Foreign and Indian Magazines and Newspapers will be displayed for perusal in the reading room.
GUIDANCE & COUNSELLING
---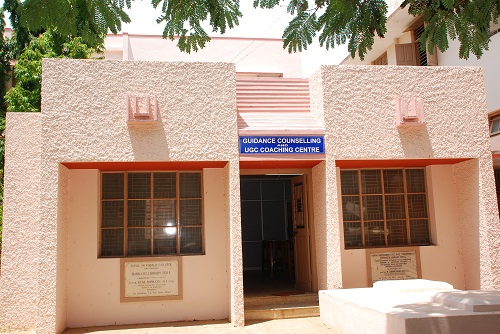 Course Guidance Programmes
This is a usual feature of the centre. Courses in Arts, Science and Humanities are exhibited to the students studying in our college. However, the following course guidance is offered:
Higher studies after graduation in Indian Universities
Higher studies after graduation in Indian Universities like Delhi University, Jawaharlal Nehru University, Hamdard University, Banaras Hindu University, Jamia Millia University, etc.,
Higher studies after graduation in Foreign Universities in U.K., U.S.A., Australia, Singapore, etc.,
Research position in Institutes and Universities.
Career Planning Programmes:
After completion of graduation / post-graduation, the students should be given information about their career planning. The following schemes are highlighted through career planning programmes:
TNPSC Group I service.
Subordinate services in State Government offices.
Staff Selection Services like clerical Grade, Income Tax, Customs Duty Inspectors etc.,
Banking Services.
Railway Services.
Insurance Companies Services.
Tamil Nadu Police Services.
Communication - Skill Development:
The success of entering into a profession or job or Higher Education requires the possession of various communication skills. Programmes are organised to develop the following communicative skills among the students:
Spoken English Classes.
English Grammar Classes.
English for Competitive Examinations.
Remedial classes for students having Arrears, especially in languages.
Personality Development:
To develop various dimensions of personality of students undergoing different UG and PG courses, Personality Development Programmes are offered by the centre. The following programmes are conducted generally:
Memory Building
Goal Setting
Be effective and successful
Self-concept
Interpersonal Communication-Transactional analysis
Positioning
Etiquette
Occupational Diseases
Mass Counseling
Esteem Building
Physiological Counseling:
Apart from developing personality of the students, there is a need to arrange psychological counseling to the depressed and problem oriented students. The centre offers both types of programmes:
Mass Psychological counseling
Individual (one-to-one) psychological counseling
Campus Training:
The Guidance and counseling centre has been a place of selection and training of candidates for the posts of Accountants, Clerks, Personnel Managers recruited by ET-ASCON, Dubai. The candidates have been selected it and outside the college, and trained for more than 6 months in the college. The performance of the trainees in checked, evaluated and measures are taken to improve their performance. After training, they were absorbed by the sponsoring agencies.
Campus Recruitment:
Campus Recruitment is one of the desired services of the students community. Different kinds of recruiting agencies have been visiting our college, nationally and internationally for the purpose of recruiting qualified and suitable candidates from the students of Jamal Organizations engaged in information technology, Medical Transcription, Cellular services, Electrical appliances, Chemical industry and others, visit our institution. This is done apart from the preparation of students for various subordinate services through the coaching centre. Every year 5 to 10 percent of the total students are recruited from the college. Thus, the recruitment is a routine programme of our college. Our college is also a learning centre for people employed in government departments like District Employment Exchange, Taluk office, Coelenterate etc., for equipping computer oriented skills.
Leadership Qualities:
The centre is taking efforts to develop leadership qualities of the students in the campus. Experts in leadership development are invited often to breed the qualities among the student. They are asked to organize programmes with AIR, Vijay TV and other private channels to design, conduct programmes relating programmes relating to career guidance and course guidance in and outside the college.
Co-ordinator:-
Dr.Shaik Karimullah,Associate Professor, Department of Hindi
Member in-charge:-
SCHOLARSHIPS
---
A number of scholarships and concessions are awarded annually to deserving students based on the results of the latest examinations. They are tenable for the period of the entire course on condition that the holders continue to study in the college till the end of their course and that their character, conduct and attendance continue to be satisfactory.
The District Labor Officer is empowered to grant certificates in the case of Scheduled classes. Full fee concession is awarded to Scheduled Caste students on production of income Certificate.
Help from the Student's Aid Fund and Orphans Aid are available to deserving students of all communities. Applications for the same are to be submitted before the end of the first semester.
Government and College Scholarships will be given to deserving students. Applications for the Government scholarship should be submitted on or before 15th July of within 15 days of their admission in the College. The list of Government scholarships is given below.
LIST OF GOVERNMENT & PRIVATE SCHOLARSHIPS:: SC, ST,SC Converted Christians (SCC)
Govt. of India Scholarships to S.C.S.T Students
State Special Scholarships for SC students only.
Free Education Scholarship. NO INCOME LIMIT only for UG and PG (Women).
Chief Minister & Prime Minister Awards Scholarship to students who have got 60% of Marks in the First Attempt.
AD Prize Money Award Scholarship.
Loan Scholarship (Only for College hostel students).
BC, MBC, DNT & DNC::
Free Education Scholarship for UG except BC Second Graduate.
H.F.R Scholarship for BC Second Graduate and all PG Students. Now income limit for MBC, DNT, DNC except BC.
GENERAL::
Scholarship to Children of BEEDI WORKERS.
NATIONAL MERIT SCHOLARSHIPS.
NATIONAL MERIT LOAN SCHOLARSHIPS.
Scholarship for HINDI STUDYING STUDENTS.
Scholarship to CHILDREN OF SCHOOL TEACHERS.
Scholarship for the PHYSICALLY HANDICAPPED
Scholarship to CHILDREN OF EX-SERVICEMEN
CENTRAL WAFQ COUNCIL Scholarship only for MUSLIM Students.
ANGLO-INDIAN Scholarship.
Special SCHOLARSHIPS for only Muslim Students.
Scholarships to CHILDREN OF SWEEPERS, SCAVENGERS & THOSE EMPLOYED IN TANNERIES.
Deceased Govt. Servant son's Scholarships.
OTHER SCHOLARSHIPS::
Prof. E.W.P Thomas, English Literature scholarship instituted by his children is given to the financially poor but deserving students of M.A. Literature.
The following Scholarships are available for Muslim Students.
Jailani Basha Memorial Scholarship ( endowed by his father Janab Majeeth Rowther)
Janab Dawood Batcha Aided Fund Merit-cum-need based scholarship for Rs.3000/- each to be awarded to P.G and two U.G students every year till they complete their course.
Alhaj Dr. A. Rahman Scholarship of Rs.3000 /- to be awarded to the deserving poor students studying B.A Arabic.
JMC Alumni Association UAE, Jeddah, Kuwait scholarships to poor deserving students.
In addition to these scholarships Muslim Students are eligible to apply for loan Scholarship made available by the South Indian Muslim Education Association,Chennai.
Note:
i) Students are eligible for only one of the above Scholarships.
ii) All Scholarships and concession are liable for forfeiture for irregularity in attendance, unsatisfactory progress in studies and indiscipline.
NATIONAL CADET CORPS
---

NCC inculcates in the youth a sense of nationalism and secular outlook that contributes towards the building of the nation. It also provides a platform for individual upliftment through the process of channelizing the energy of the youth in constructive pursuits. Besides giving thrill and excitement, NCC promotes camaraderie and resilience and hones cultural skills to preserve the cultural traditions and values of the society. It helps the youth to realize the intimate relationship between man and the community, between community and nature and their inter-dependability. NCC training helps the cadets in the improvement of mental alacrity, cultivating sense of discipline and responsibility, development of social personality and aptitude for leadership and inculcation of the principles and practices of military service.
NCC Infantry and NCC Armed Squadron are attached to our College.
Recruitment to NCC is made at the commencement of each academic year, from among the first year degree class students only. Every enrolled cadet undertakes to continue in the corps for a minimum period of two years. Attendance is compulsory at weekly parades held during the academic year and at the annual training camp held during the vacation. Normally Parades will be held on Saturdays, and will not interfere with the academic work.
The cadets have no liability for active military service once they complete their course but are given preference over normal candidates during selections based on the achievements in the corps. Opportunities are given to the outstanding cadets to participate in the following special camps every year.
Republic Day Contingent Parade - New Delhi
Parachute Jump Training
All India Trekking Camp
All India Basic Leadership Course
All India Mountaineering Course
All India Army Attachment Camp, and
Youth Exchange Programmes in different countries.
Outstanding N.C.C cadets are awarded with the Tamil Nadu Government Merit Scholarship of Rs. 600/- per annum and the Bharathidasan University Vice-Chancellor's Merit-cum-Cash awards.
Cadets shall appear for 'B' and 'C' certificate examinations at the end of second year and third year respectively.
NATIONAL SERVICE SCHEME
---

The Motto of NSS, "NOT ME BUT YOU", reflects the essence of democratic living and upholds the need for self-less service. NSS helps the students develop appreciation to other person's point of view and also show consideration to other fellow human beings.
The College has 5 units for men, with strength of 500 volunteers, and 2 units for women, with a strength of 200 volunteers. Every student member of NSS should serve for at least two years with 120 hours of engagement in community service, per year, excluding annual camps. At the end of two years of satisfactory service, every student member will receive the NSS Certificate, which is considered as equivalent to a diploma in Social Service.
The main objectives of National Service Scheme (NSS) are :
Understand the community in which they work
Understand themselves in relation to their community
Identify the needs and problems of the community and involve them in problem solving
Develop among themselves a sense of social and civic responsibility
Utilize their knowledge in finding practical solutions to individual and community problems
Develop competence required for group-living and sharing of responsibilities
Gain skills in mobilizing community participation
Acquire leadership qualities and democratic attitudes
Develop capacity to meet emergencies and natural disasters and
Practice national integration and social harmony
CLUBS & ORGANIZATIONS
---
Rotaract Club
Youth Red Cross is a youth wing of the Indian Red Cross Society functioning in our college. It has young volunteers who can make a significant contribution to meeting the needs of the most vulnerable people within their local communities. The programme focuses on the following areas:

Promote life and health through training and education on safety, primary health care and healthy living.
Encourage community service through training and education.
Promote international friendship with activities that cultivate a humanitarian spirit.
Provide technical support in the development of youth programmes, fund-raising, identification of material and human resources
Rotaract Club
Rotaract clubs are part of a global effort to bring peace and international understanding to the world. Rotaract has the following goals:

To develop professional and leadership skills
To emphasize respect for the rights of others, based on recognition of the worth of each individual
To recognize, practice, and promote ethical standards as leadership qualities and vocational responsibilities
To develop knowledge and understanding of the needs, problems, and opportunities in the community and worldwide
To provide opportunities for personal and group activities to serve the community and promote international understanding and goodwill toward all people
Rotaract clubs organize a variety of projects and activities, depending primarily on the interests of the club members. However, within the Rotaract program, all clubs undertake three types of activities in varying degrees: professional development, leadership development, and service projects.
The Rotaract Club, functioning in the college, is sponsored by the Tiruchirapalli Main Rotary Club. To bring out the hidden talents of the members, two bilingual magazines "JAMFO", by the men volunteers and "PETALS", by the women volunteers are published every year.
Red Ribbon Club
The Red Ribbon Club, functioning in our college, is a voluntary on-campus intervention programme for students. It is initiated and supported by the State AIDS Control Society and implemented through multi-sectoral collaboration, particularly, using the services of cadre officers of the State's National Service Scheme (NSS).

The programme will address the knowledge, attitude and behavior of the youths in the interrelated areas of Voluntary Blood Donation, HIV & AIDS prevention, as demanded by their age, environment, and life style. The Red Ribbon Club will serve as a complementary and comprehensive prevention intervention to support and reinforce similar youth led initiatives. It will also prepare and promote youth peer educators within and outside the campuses.
Leo Club
The Leo Club of Our College (sponsored by the Lions club of Tiruchirapalli Midtown) is one of the biggest clubs in India with more than 475 students as members. The main objectives of this club are social work and participation in public welfare activities. Students who can devote time for such activities are welcome to join this club. The magazines "SANGAMAM" and "SIRAGUGAL" in bilingual are published annually.
Anti dowry association
155223
The Anti Dowry Association of Jamal Mohamed College was founded in 1984. It was established with the main aim of abolishing dowry in our society and to create awareness of the evils of dowry among the youth and to encourage the youth to marry without collecting any dowry. A magazine entitled "PIRATHIPALlPPU" in Tamil is published every year.
Fine Arts Association
The Fine arts association provides opportunities for the students to exhibit and develop their hidden talents in quiz, debate, dance, music and other cultural activities. The College fine arts team participates in inter-collegiate competitions conducted at College, University and State levels.
Citizen Consumer Club
The Consumer club of the college functions with the main objective of instilling the spirit of the protection of consumer rights, in the minds of the present day youth and to strengthen the consumer movements in the country
University Students Service Corps
The University is organizing University Student Service Corps (USSC) with a special focus on personality development of the students and harnessing student power in vital areas of social concern like environmental protection. There will be yoga education and training coupled with character building. The social service component would be confined to a concerted student group action on protection of environmental quality.
SPORTS
---
Participation in games and sports invariably ensures good health, fitness and, generally, freedom from ailments of various types. Physical fitness is essential for proficiency in studies and for winning distinctions in examinations. Ailing bodies do not make for sharp brains. Exercise in some form or another is necessary, and sports provide an easy method to ensure such fitness. Playing the game on the playground naturally instructs people to play the game of life in the right spirit, which is what matters most, not victory or defeat
The College provides facilities for the following games and sports:
Cricket
Hockey
Basketball
Football
Volleyball
Kabbadi
Badminton
Tennis
Table Tennis
Chess
Weight Lifting
Athletics
All the students of the College are members of the Athletic Association. The Physical Director is the Ex-officio secretary of the association. The activities of the association shall be managed by a sports Committee.
Intramural sports and tournaments are conducted every year. Players and Athletes selected for college teams should play for the college only.
JAMCROP
---
We serve to grow, we grow to serve

The epitome of a successful life always includes serving others
JAMCROP (Jamal Mohamed College Reach Out Programme) is a College out-reach programme launched during the year 2007. Service involvement moulds one's personal values-sense of commitment and self-esteem, leadership qualities, inter-personal relationships and sense of dedication to society. Remarkable victories are a culmination of constant small efforts. Hence, community service plays a vital role in strengthening the nation with integration.
The institution neighbourhood network is established and maintained through community development activities. The college promotes the institution neighbourhood network through through the services such as
Socio Economic Survey
Computer Literary to School Children
Communication Skills in English
Consumer Awareness and Consumer Rights
Health and Hygiene awareness
Health and Hygiene awareness
As student development through their education, linking community service with academic work enhance them understand the human dimension of academic discipline and develop a conceptual frame work for their community service.
The outreach programme of the college aims at providing urban facilities in the adopted rural villages. This has been included as part of the curriculum under Part IV at the Degree level. Each student has to spend 10 hours during the 1st and 2nd semesters respectively in the adopted village and participate in the specific activities identified by each department of the college. The students should earn grades as A / B / C / D by this participating in programme.
OUR ADOPTED VILLAGE PANJAYATHS
POONAMPALAYAM
INAMKULATHUR
IRUNGALUR
OBJECTIVES
To develop a close contact with rural communities
To provide rural exposure to the students
To help the needy
To protect the rights of the villagers
To provide urban facilities in the adopted villages
To create IT awareness among the school children
To conduct Health Awareness Camp for Women
ACTIVITIES
Basic Education
Environmental Education
Clean India Movement
Health, Hygiene and Nutrition
Animal Health
Social Organisation Work
Manual Labour
Liaison Work
Development Programmes
Training in Environment
Training in Health and Hygiene
Training in Agriculture and Animal Husbandary
Rehabilitating the Handicapped
Promoting Herbal Medicine
A milestone in the History of Jamal Mohamed College is the Community outreach programme – JAMCROP. Jamal Mohamed College has dedicated its mission in life to helping the masses. Funded by the college, JAMCROP is devoted in extending service in the social, economic, educational and cultural development of the villagers.
Photos
DEENIYATH EDUCATION
---
The moral & value education and religious instruction course (Deeniyath Education) is open to all students of the college. Deeniyath classes are conducted on every Thursday after the fifth hour. Attendance is compulsory for Muslim students. Absence to these classes will be intimated to the parents. Examination will be held at the end of the year and prizes and certificates are awarded. Students are asked to receive the syllabus and books from the Deeniyath Co-ordinator.
TRANSPORT
---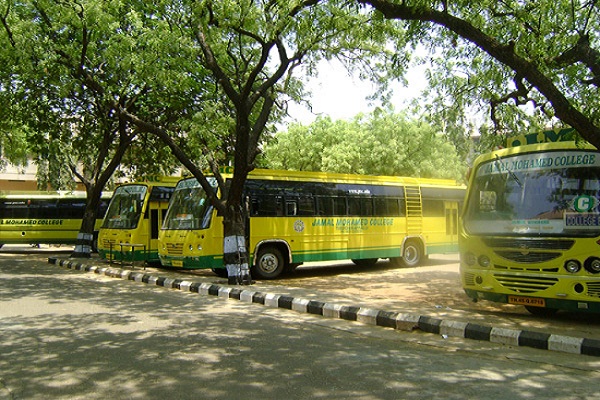 The College provides transport facility for the women students at nominal rates. About 6 college buses help the students to commute to the college from various places in the Tiruchirappalli City. All the buses reach the campus at 01:50 p.m. so that students get ready to attend the classes at 02.00 p.m. The buses leave the campus at 06:30 p.m.
GREIVANCE CELL
---
The Grievance Redressal Cell is functioning in the College to deal with matters relating to the redressal of genuine and valid grievances of the students concerning all academic and examination related matters and suggest corrective measures.
A systematic enquiry is made into the written complaint lodged by a student regarding his/her Continuous Internal Assessment or Final Examination marks and suggests appropriate corrective measures are suggested.
A Grievance Letter Box is kept in the General Library for Men and in the Women Library for Women. The letter of grievance may be dropped in the grievance letterbox or it can also be handed over to the Convener of the Grievance Appeal Committee in person.
The letter of grievance should contain the name, roll number, and class of the student and should be duly signed with date.
The Convener shall collect the letters of grievance, number them serially, go through and arrange for the redressal of grievances of the students. He shall report the same in the monthly meeting of Grievance Appeal Committee to be convened on the first Monday of every month. The genuine grievances will be properly redressed.
Internet Browsing Centre
---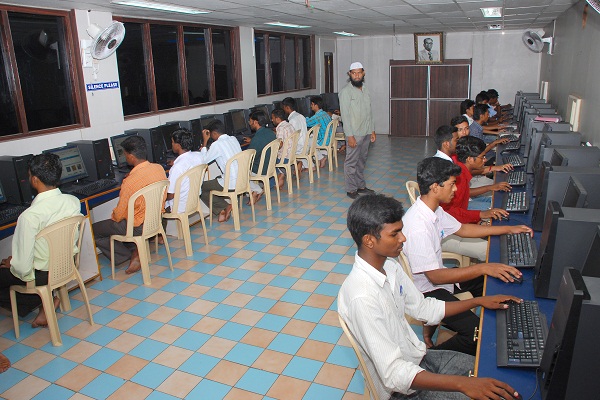 In addition to the internet connectivity provided in all the departments, a separate Internet Browsing Centre is functioning adjacent to the Hussainuddin Hall. Providing with at free of cost at 50 Mbps leased line for students & staff benefits.
ENTREPRENEURSHIP CELL
---
The objective of promoting entrepreneurship among the youth is to nurture a passion for self-employment. This will open avenues for creation of new knowledge-based innovative hi-tech ventures, industries and new breed of technopreneurs, thus turning job seekers into job creators and in the process, leading the nation towards industrial excellence and self-reliance.
The Entrepreneurship Cell has been set up in the College with the aim of manifesting the latent entrepreneurial spirit of the young students. The Cell organizes several entrepreneurship awareness programmes, guest lectures by successful entrepreneurs; various workshops and seminars for the aspiring entrepreneurs and supports them by providing necessary resources such as seed funding, mentoring, consultancy and networking.
The objectives of the cell are to promote creative thinking and efficient work culture, develop communication, marketing and management skills, make productive business plans, and to convert innovations into marketable products.
HEPSN
---
Enabling Unit for Differently-abled Persons (HEPSN)
The Enabling Unit for Differently-abled Persons(HEPSN) scheme, supported by the UGC, was established in the year 2010 in accordance with the Person with Disabilities Act of 1995.
Objectives of HEPSN :
To provide equal educational opportunities to Differently-abled person
To provide access and special educational needs to Differently-abled person
To provide special assistive devices for learning
To create awareness through councelling
To ensure admission of as many Differently-abled students as possible through the open and reservation quota
To conduct awareness programmes for teachers about the approaches to teach Differently-abled person
To celebrate important days pertaining to disability
To remove architectural barriers
In the academic year of 2011-12, our college has admitted more than 40 differently-abled students in various Under Graduate and Post Graduate courses.
Name of the Co-ordinator :
Prof T.Umar Sadiq, Assistant Professor, Department of History.
DAY CARE CENTRE
---
Neat and Clean Environment
Age Limit ( 1 to 3 years)
Safe and Playable Environment
Three dedicated Staff
Main Special function in providing mother room for feeding
Special care is given to each and every individual kid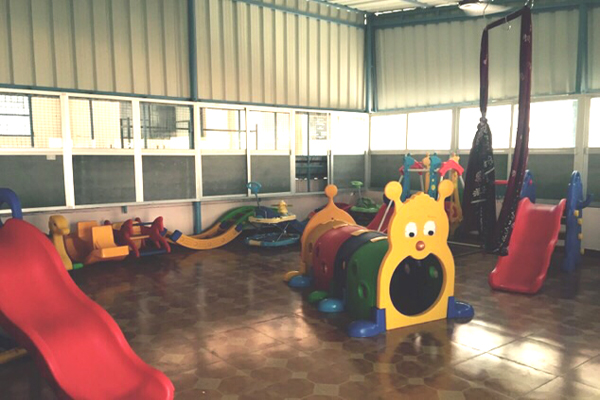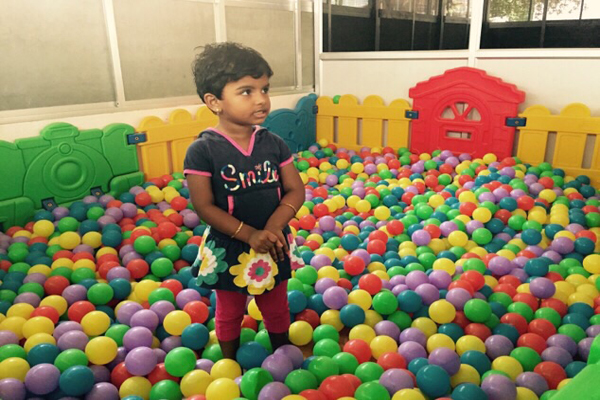 COMMUNICATION LAB
---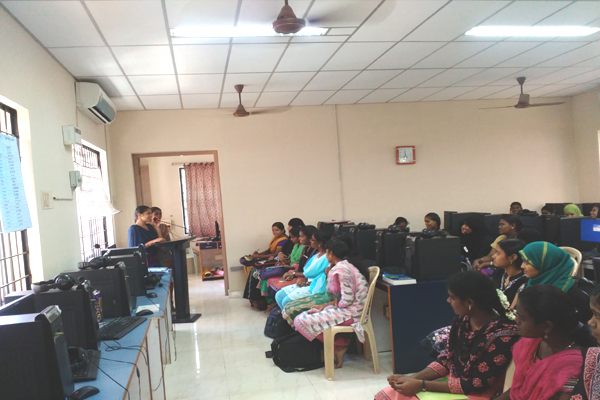 Our college is providing a certificate course on communication skills Communication prepares students for careers in a variety of key areas of the constantly evolving and dynamic I.T industry
Why study this course ?
Over two-third of the worlds scientists read in English
Three quarters of the worlds mail in written in English
80% of the world's electronically stored information is in English
Develop your career :
Most professional jobs require a good level in English- think how impressive "excellent level in English "will look on your CV
Business and commerce are increasingly driven by international trade and if you are going to grow in your job you need to be able to follow this trend
Technical skills are essential in modern industries and you need to be able to both read and write technical English if you are going to maintain your technical competence
About Class :
It's Not A Theory Class
You Are Going To Be Learn Through Computer
You Are Going To Learn Practically
You Will Lose Fear/Shyness/Hesitation
You will Get An Environment To Speak English
More than 300 students completed this course
Most of the students got placed in companies
About Course :
Level -A- Basic
Level -B- Intermediate
Phonetics
Communicative English
Situational conversation
Global communicative English
Error in spoken English
Grammar
Level -C- Advanced English
BBC Current Events
Dialogue (U.S Accents)
Idioms
Phrases
Projects
Handling Telephone Calls
Career Planning
Making C.V
Email Skill
Group Discussion
Debating
Public Speaking
Presentation Skills
Reporting
Soft Skills
IELTS (INTERNATIONAL ENGLISH LANGUAGE TESTING SYSTEM)
TOEFL (TEST OF ENGLISH AS A FORIGN LANGUAGE)
Pronunciation
Vocabulary
Listening practice
Listening and speaking
Exercise
Timing for Girls
| Batches | Timing |
| --- | --- |
| First batch | 9.30 am to 10.30 am |
| Second batch | 10.45 am to 11.45 am |
| Third batch | 12.00 pm to 1.00 pm |
Timing for boys
| Batches | Timing |
| --- | --- |
| First batch | 2.30 pm to 3.30 pm |
| Second batch | 3.30 pm to 4.30 pm |
| Third batch | 4.30 pm to 5.30 pm |
Name of the Co-ordinator : Mr K.N.ABDUL KHADER NIHAL, Assistant Professor & Head of IT, Department of IT
Persons to Contact & In-charge : Dr.Shaik Karimullah, Associate Professor, Department of Hindi
Communication Trainer : Mr. Mohammed Ubada