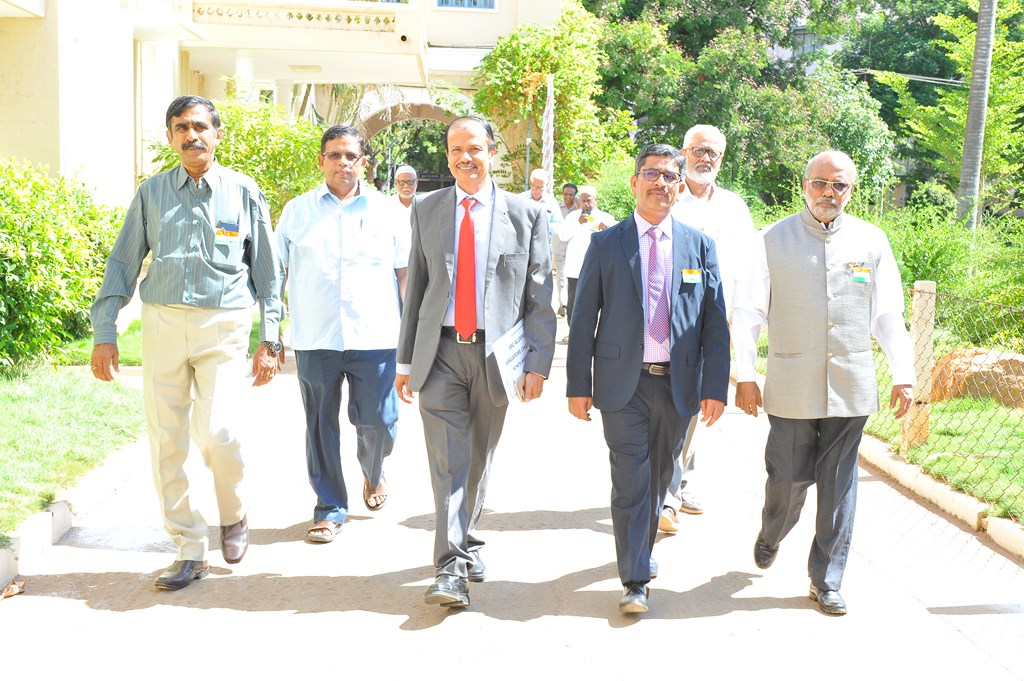 Founder Treasurer K.Abdul Samad Memorial Block (Ground and I Floor), 1966

Jailani Basha Memorial Building, 1980

Parking Shed for Two Wheelers, 1985

Syed Hussainudden Hall (Conference Hall), 1991

Thanjavur Hajee M.M. Ismail Memorial Block, 1992 by Dawood Batcha and Abdul Khatheem

Concrete roof in the I Floor (South) of Jamal Mohideen Building by Alumni Staff Members

Krishnaswamy Naidu Memorial Basketball Court, 1995

Haji Minna Noordeen Block, 1997

Dubai Alumni Block (PG New Hostel), 2000

Hasan Rowther Library Hall ( Khajamian Hostel), 2001

Palani Keeranur Haji. K.N.S. Abdul Rahman Labbai.

Sahib Memorial MBA Hostel, 2004 Built by Mr. Rahamathullah, Jeddah.

Women Prayer Hall in the Mosque Campus, 2004

Women Prayer Hall in the Campus, 2004, built by Mr. S.A. Abdul Malik, Jeddah.

Jeddah Alumni MBA Block 2006.

Kilakarai IR8 Seyed Mohamed Memorial Block 2006, built by Er. Kamaluddin, Jeddah.

Kilakarai Alhaj M.A.M.A. Abdul Karim Endowment Building for Anna University Office, 2007 built by Kilakarai Noorul Haq, Dubai.

SRM Endowment Block ,2008, built by Dr.TR.Pachamuthu, Chancellor, SRM University, Chennai.

NB Abdul Gafoor Auditorium - Renovated and Air Conditioned by Dr.TR.Pacahamuthu, Chancellor, SRM University, Chennai,2008

Jeddah well wishers and old students Endowment Block 2008 by Jeddah old students and well wishers

Al Manhal - New MBA Block Ground Floor built by the contribution of Rs.10 lacks by Mr.M.Ziauddin, Auditor, Dubai, 2010

Dr.M.Sheik Mohamed Hall built by the Principal at a cost of Rs.6,00,000 in recognition of Education given to him by Palani Neikkarapatty Thiru Jegannath

Naickar and in memory of his father Palani Periyakalayamputhur, K.Mohamed Gani Rowther in 2010

Irumeni OSM Mohamed Ibrahim Memorial Hall - I Floor of New MBA Block built from the contribution of Rs.10 lakhs by Dr.A.S.Nathar Khan, Malaysia,2010

Rajaghiri Haji S.A.Abdul Malik Memorial Hall built at a cost of Rs. 2 lakhs by his family members,2010

Singapore Alumni Hall, II Floor of Kulalumpur Mariam Ismail Hall in the Khajamian Hostel Campus,2011

Palani Keeranur Janaba Kulsum Beevi Hall, III Floor in P.G.New Hostel Auditorium,2011

Kuwait Alumni Hall IIFloor of IDB Hostel Block in the Khajamian Hostel Campus 2011.

Chennai Alumni Haji. Farook Basha Hall inKhajamian Hostel Campus 2011.