Department of Hotel Management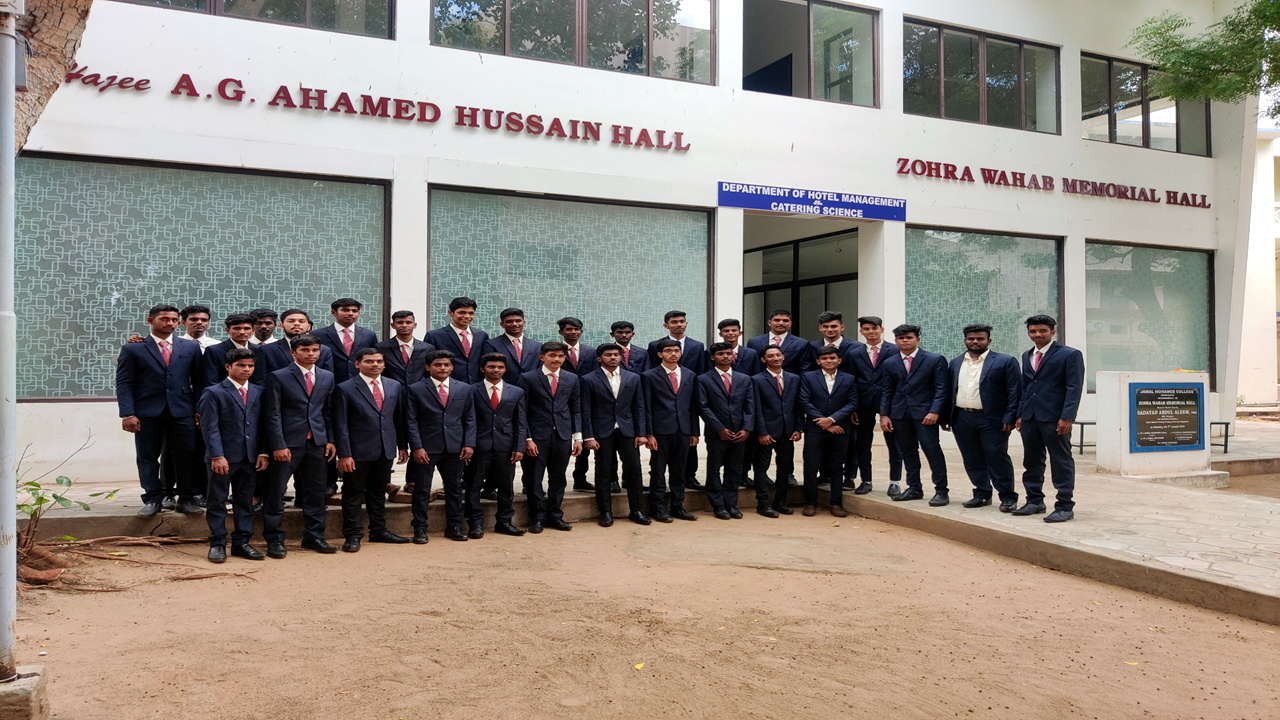 Since its inception in 2008, our department is widely regarded as one of the premier institutes in this region to equip aspirants for the hospitality industry. It has been crafted with well-equipped laboratories and state-of-the-art teaching facilities to impart skill-focused education to the students. Our department imparts high-quality education in an affordable fee structure. During the academic year 2020-21, our department was elevated to the status of research department with the approval of Bharathidasan University.
Our institution is recognized as the first and only institution in the Bharathidasan University to offer the Ph.D. research programme in Hotel Management and Tourism. It also offers two different highly professional and job-oriented undergraduate programmes namely B.Sc. Hotel Management & Catering Science (2 Sections), and B.Voc. Tourism and Hospitality Management (from 2020-21 onwards). With the commitment to delivering quality education and training to our students, our department produces university rank holders every year. In the academic year 2016-17, 2017-18, 2018-2019 & 2020-2021 our students secured First Rank at University Level. Our alumni are placed in coveted positions in the hospitality industry in India and abroad. During its 14 years of educational service, the department has organized 3 State Level Seminars, 7 National Conferences, 3 International Conferences, and 9 Webinars. Every year Food Mela is organized to display the talents of students in producing the star hotel's delicious dishes. "NUTRITIA" snack stall is an initiative taken by our department to provide highly nutritious and traditional healthy foods at affordable prices to the students and staff of our college.
Vision of the Department
To achieve excellence in the field of Hospitality and Tourism education and research by providing extensive and value-based high-quality education to the students.
Mission of the Department
To provide an inspiring experience for personality development by
► Educating students with a thorough competency in hospitality management and to encourage potential students to become entrepreneurs.
► Offering skill-based modules to produce outstanding community-focused hospitality and tourism professionals with dynamic management and leadership skills.
► Producing eminent hospitality graduates by inculcating sense of duty, discipline, responsibility and service to the nation and society.
PROGRAMMES
---
| UG Programme | Number of Sections | Syllabus | Commencement of the Programme |
| --- | --- | --- | --- |
| B.Sc. Hotel Management & Catering Science | 2 | 2011 2014 2017 2020 2023 | 2008 |
| B.Voc. Tourism & Hospitality Management | 1 | 2020 2023 | 2020 |
| Ph.D. Hotel Management & Tourism | -- | -- | 2019 |
View / Download Pdf
ACADEMIC ADVISORY COMMITTEE
---
S.No
Name & Address
Contact Details
Category
1

Dr. R. Kannan

Professor

Centre for Tourism & Hotel Management

Madurai Kamaraj University

Madurai.625021

Mobile: 9361107700
E.mail: saru.kannan@gmail.com

Academician & Well wisher
2

Dr. K. Vijayanambi

Principal

Pondicherry Institute

Hotel Management & Catering Technology

Opp To Mahalakshmi Nagar

Murungpakkam

Pondicherry - 605004

Mobile: 9443258389
E.Mail: pihmct.pon@nic.in
Academician & Well wisher
3

Mr. E. Irfan

Senior Graphic Designer

Visual Markrting Strategist

Infobrandz Wilmington DE

United States of America

Mobile: 9688988228
E.Mail: irfaneskkak@gmail.com
Alumnus & Entrepreneur
4

Mr. A. Mohamed Ibrahim

Proprietor

Ibu Catering Service

142, Seethakathi Middle Street

Sivakasi-626123

Mobile: 8220235622
E.Mail:kpsibu24@gmail.com
Alumnus & Entrepreneur
5

Mr. S. Sadham Hussain

Housekeeping Supervisor

Flora Inn Hotel Dubai Airport

24 Airport Rd Garhoud

Dubai, United Arab Emirates

Mobile: 7708361521
E.Mail: sadhamhussain1998@gmail.com
Alumnus
Infrastructure
---
Particulars
Numbers
Class Rooms
9
Front Office Lab
1
Training Restaurant
1
Training Kitchen
1
Bakery and Confectionery Lab
1
Housekeeping Lab
1
Computer Lab
1
Classroom with ICT Facility
3
Department Library
1
OUR RECRUITERS
---