Department of Visual Commmunication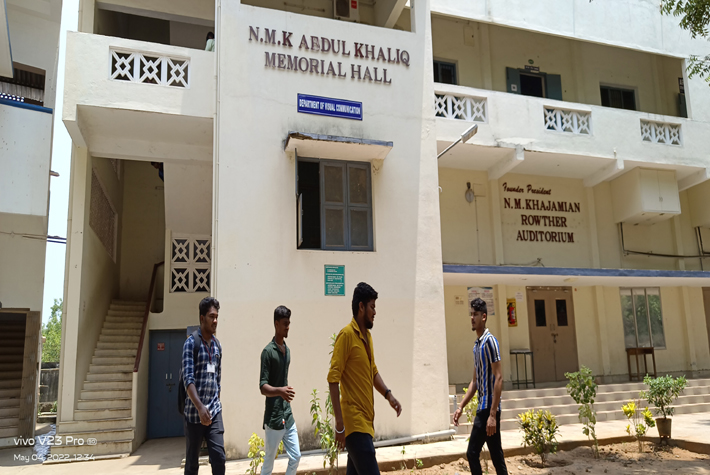 The Department of Visual Communication blossomed in the year 2016. B.Sc Visual Communication programme was inaugurated by the eminent film Director Mr. Ameer and Dr A. Santha Director, Media Research Forum Madurai, Dr. D.I.George Amalarethinam, Bursar and Direcor(MCA), was the Coordinator of the department. Later, B.Voc. Media Production Programme was also started by the department to fulfil the need of the student's community.
Presently, Dr A.R.Mohamed Shanavas, Associate Professor of Computer Science is the Coordinator and Seven staff members in different specialties working as a good team. A State of the art Audio Visual Studio, Green Matte Studio, Creative Studio, Edit Suite are effectively used for Teaching and Learning. Computer lab facilities are made available for sharing in the department of Hotel Management, Biotechnology and Social work to meet the students' need. Many workshops, seminars and guest lectures were organized by the department to inculcate and update the students' knowledge in Media and Entertainment world. Industrial Visit and Internship training were also arranged for the students to update their knowledge in the Media Industry.
Heritage Walk, visit to the places of interest were also arranged for the students to learn the importance of documentation and create shortfilm and other form of presentation.
Every week Read to Lead and Film Screening programmes are conducted regularly. Students are allowed to participate in various intercollegiate competitions and workshops. An intensive training has been given in the events such as shortfilm making, Radio Jockey, Cartoon creation, Photography, Mixed Media Art.
In addition to this department faculty members and students were supporting in the documentation of college events and preparing E content development for the various departments. A Free Consultation on purchasing the equipment needed for the Media departments and guiding the other institutions in establishing audio visual studios, were also offered. Conducting skill oriented courses like Pencil sketching and Art from Anything as Generic Elective courses for the benefit of students was a special attraction.
Presently our students are working in the Media and Entertainment Industry as Actors, Assistant Directors, Media Teachers in CBSE School. They also have "YouTube" channels, Digital Studios and also act as freelancer in Advertising, Event Management and Digital Marketing fields.
VISION:

To become a World Class, Innovative, Competitive and prosperous Media School of excellence by offering Visual Literacy and training in Media Production.

MISSION:

► To provide the skills and talents to face the challenges in the Media Industry.

► To impart training to develop creativity, sense of aesthetics and Social Responsibility among the students for a better society

► To bridge the gap between academia and industrial requirements in the field of media.

ACADEMIC ADVISORY COMMITTEE
---
S.No
Name & Address
Contact Details
Category
1

Mr. S. Cyril Alexander

Founder, Director

Sterling School of Playback Theatre

No: 39/8, Starling Apartments

Akbarabad 2nd Street, Kodambakkam

Chennai - 600024

Mobile: 9444011035
E.Mail: cyril@mactindia.org

Well wisher
2

Mr. Suresh Ramakrishnan

Old No: 24, New No: 13

Palaikaran Cross Street

Kodambakkam, Chennai - 600024

Mobile: 9500016622
E.Mail: suresh2603@gmail.com
Well wisher
3

Mr. K. Aravindhakumar

Chief News Editor, Malaimurasu TV

No: 246, Anna Salai, Thousand Lights

Chennai - 600006

Mobile: 8220722511
E.Mail: 1947aravind@gmail.com
Well wisher
4

Mr. Akash Vincent

Raw Media, No:27, Saratha Complex

Subramaniya Nagar, K.K. Nagar

Trichy - 620021

Mobile: 7708207753
E.Mail: rawmedia2209@gmail.com
Alumnus
5

Mr. Shanmugavel Vinu

Director

Why not us Pvt Ltd

7030 Ang mo kio Avenue -5 #05-04

Singapore - 569880

Mobile: +65 97868292
E.Mail: shanmugavel.Vinu@gmail.com
Well wisher
DEPARTMENT ACTIVITIES
---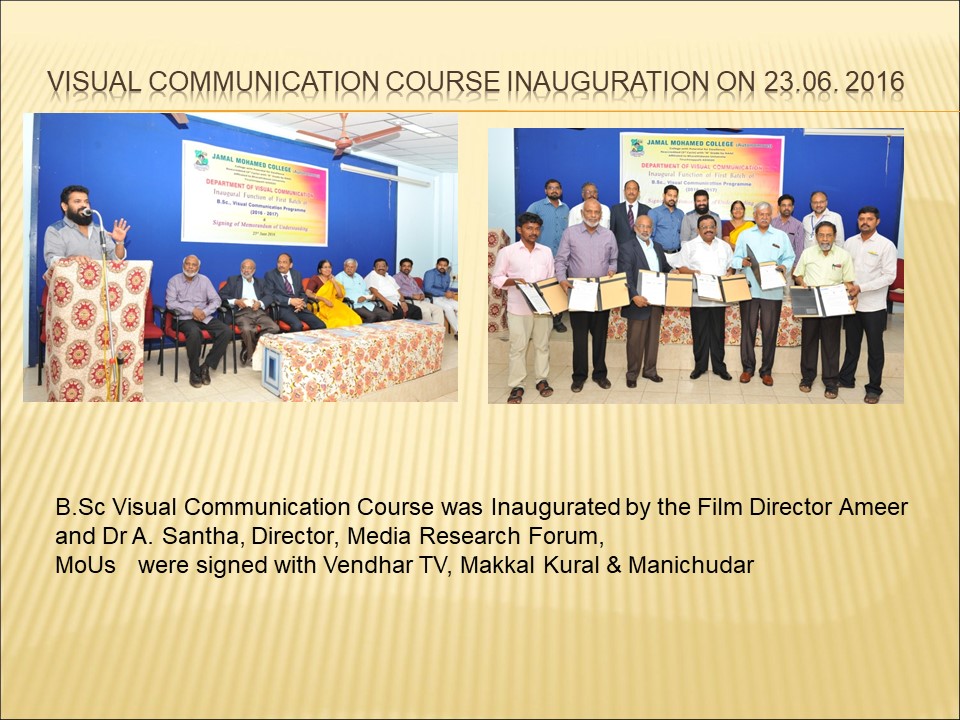 Infrastructure
---
Particulars
Numbers
Class Room
6
Computer Lab
1
Green Matte Studio
1
Audio Visual Studio
1
Edit Suite
1
Creative Studio
1
OUR RECRUITERS
---