THE WOMEN HOSTEL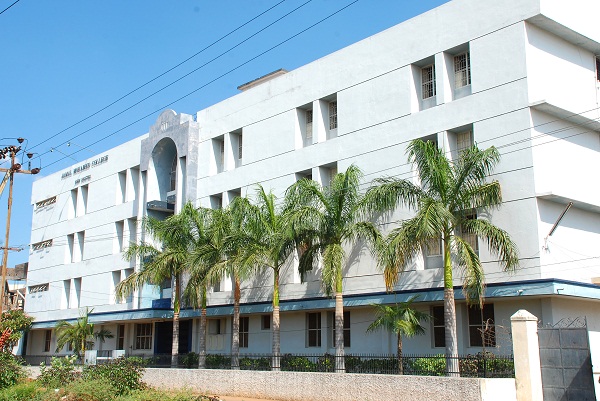 The College is running an exclusive hostel for women students which is situated inside the college premises with all infrastructure facilities.
Administration
The Principal of the college is the warden of the hostel. The hostel is managed and monitored by the Directors, Coordinator, Deputy Warden and Sub Wardens.
| S.No | Name | Designation | Mobile No. |
| --- | --- | --- | --- |
| 1. | Dr. S. Ismail Mohideen | Principal & Warden | 9894113582 |
| 2. | Dr. K.N. Mohamed Fazil | Director - Hostel Administration | 9944546413 |
| 3. | Ms. A. Hajira Fathima | Director - Women Hostel Administration | ----- |
| 4. | Dr. A. Hidhayathulla | Deputy Warden | 9443424425 |
Admission
Admission to the hostel shall be sought only after obtaining admission into a course in the college. Application for admission to the hostel shall be made in the prescribed form. Every student before admitted to the hostel must give an undertaking in writing that she will adhere herself to all rules & regulations put in place by the authorities. This shall be endorsed by the parent / guardian also in the attached declaration form. The admission to the hostel is for one year only and readmission to subsequent years is subject to the compliance record of the inmates.
At the time of admission, the applicant should remit the prescribed hostel fee in full.
Amenities in the Hostel
► The hostel has 2 dining halls with modern kitchen facilities
► A computer centre with internet facility
► Photo copier and a canteen facility.
► Sewing machine to carryout minor stitches in dresses.
► A well-equipped library with more than 2000 volumes.
► Smart card pay phone with STD and ISD facilities.
► A spacious prayer hall.
► An auditorium with a seating capacity of 200 students
► LCD televisions in all the blocks
► A bio-gas plant to supply gas for cooking.
► A fully furnished guest house in the hostel premises.
► Sanitary napkin vending and disposal machines in all the blocks
► Two generators and solar plants to provide 24x7 uninterrupted power supply
► Purified Drinking water facility is available in all blocks along with water coolers
► Solar water Heater facility is available
► Free Wifi facility is available in all blocks to facilitate students to user their own laptops for their career Development.
► Board games, shuttle cock and bat are available
► A lady doctor will offer treatment and consultancy daily in evening hours
► Biometric attendance and mobile integrated system of communication with parents to ensure safety of the inmates
► Open gym facility inside the hostel is available
Daily Life in the Hostel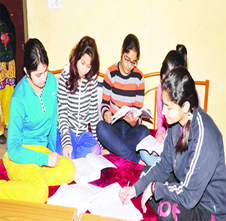 The college timing is 2 – 6.30 PM. The inmates should go out of the hostel before 1.45 PM to reach the class in time. The inmates should affix finger print in the biometric screen in the entrance of respective block while going to college and coming back. The inmates are expected to come back to hostel before 6.45 PM. Those happen to remain in the college beyond 6.45 PM should get due written permission from the tutor or head of the department and handover the permission letter to the security at hostel main gate. Inmates should get prior permission from sub warden for staying in the room after 2.00pm during college working days.
Study hour is observed between 7.30 & 8.30 PM. Sub-wardens will record the presence of the inmates during the study hour. All the inmates should compulsorily remain in the allotted room should study and observe silence. Sub-wardens will intimate the unauthorized absence of the inmates to the parents after 8:30pm.
Day scholar's are not permitted inside hostel. The hostel Authorities cannot be held responsible for any loss or theft of the belongings of the residents. The resident should keep their belongings in their own custody and safety.
Hostel ID must be shown for verification whenever security guard, other officials of the hostel ask the same.
Food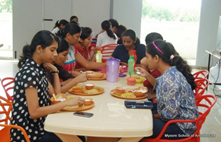 Balanced Non-Vegetarian and Vegetarian food is served in the hostel messes on dividing system. Student representatives are consulted in finalizing the menu. Mess bill would be sent to mobile number of the parent every month and be paid within the last date mentioned in the bill.
MESS TIMINGS
| | Working Days | Holidays |
| --- | --- | --- |
| Breakfast | 08:30 am - 09:45 am | 08:45 am - 10:00 am |
| Lunch | 12:30 pm - 01:45 pm | 01:00 pm - 02:15 pm |
| Tea | 06:45 pm - 07:15 pm | 04:30 pm - 05:30 pm |
| Supper | 08:30 pm - 09:45 pm | 08:30 pm - 09:45 pm |
Visitor's Time
Visitors whose name mentioned in hostel ID will be permitted to meet the inmates.
Working Days
07:00 am - 12:00 pm
6:45 pm – 07:30 pm
Holidays
07:00 am - 07:00 pm
Going Home and Coming Back
Inmates will be permitted to go home with a person whose name is mentioned in her hostel ID. She has to submit a leave form to sub-warden and collect out pass and entry pass. The out pass should be handed over to the security at college main gate. The entry pass should be handed over to the security at hostel main gate at the time of returning from home. The inmate should also affix finger print at the hostel main gate while going home and returning back to the hostel. An SMS will be delivered to the parent mobile immediately stating the time of leaving the hostel and entry of the inmate into hostel respectively.
General Information
► Inmates are not permitted to conduct meeting of any nature in the hostel without the warden's written permission. Also student should not assemble or move as groups inside the hostel campus.
► Change of parent's phone numbers should be informed to the hostel office by the parents through the request letter sent from their residential address or phone call from any one of their contact numbers given at the time of admission.
► Inmates should keep their room tidy and clean.
► Inmates should putt off the electrical appliances while leaving room.
► Violation of the rules and regulations of the hostel will lead to expulsion from the hostel.
JAMAL MOHAMED COLLEGE - MOSQUE
Information to be updated soon
PRAYER HALL FOR MEN
Information to be updated soon
PRAYER HALL FOR WOMEN
Information to be updated soon
COUNSELLING CENTRE
Information to be updated soon
CAFETERIA
Information to be updated soon
CIVIL SERVICES EXAMINATION STUDY CENTRE
---
Jamal Mohamed College, the elegant citadel of excellent learning and a gateway of knowledge, was established on 11th July, 1951 by two friends Janab M.Jamal Mohamed Sahib and Janab N.M.Khajamian Rowther who were Philanthropists and very much participated in the freedom struggle of our Nation. Our college is a well rooted Banyan tree providing shelter to a large section of intelligent, economically backward and socially disadvantaged students.
As a glittering gem in the colourful crown of Jamal Mohamed College, Civil Services Examination Study Centre was started during the year 2012 to fulfill the great desire of our society. The prime intention of the centre is to impart fundamental and foundation level training in civil services to our college young, energetic and dynamic students who are aspiring to occupy pivotal administrative services of our country through UPSC examinations. On every college working day regular classes are conducted from 10:30 am to 12:30 pm for Women students and 2:30 pm to 4:30 pm for Men students.
The centre boasts of a well established library, well-equipped computer laboratory and a well-furnished seminar hall with LCD facilities to illumine the life of the civil aspirants.
Vision
The centre envisions creating young administrators, law abiding officers who will be at the forefront of our country in meeting the challenges and to shoulder the responsibility of executing schemes, maintaining law and order, formulate, enact and implement initiatives for the overall betterment of the society. It is our ordent belief that the destiny of this nation will be shaped by young men and women who not only possess intellectual vigour and administrative brilliance, but also hold values like honesty and integrity dearer to their heart. We are sure that the Civil Services Centre will dedicate itself to this noble task of training architects and builders of Modern India.
Mission
►The prime objective of our centre is to identify and to select the aspiring students to impart basic skills, knowledge and other necessary training to mould them to appear for the UPSC examinations.
►To enhance the intrinsic energy of the students and unearth their hidden talents and potential.
►To give them systematic orientation in such a way that they can overcome any challenge which come in their way during the course of their study or after assuming administrative services.
►To imbibe ethical, moral, spiritual and human values to inculcate concern for the society.
S.No.
Name
Designation
1
Dr. S. M. Mazhar Nazeeb Khan
Co-ordinator
2
S. Sathish
Faculty Members
3
1. Dr. M. Syed Ali Padusha
2. Dr. H. E. Syed Mohamed
3. Dr. A. Sadiq Bukhari
4. Dr. M. Meeramaideen
5. Dr. A. Aslam
6. Prof.B.Sirajudeen
Core Team Civil Services

DAY CARE CENTRE
---
Neat and Clean Environment
Age Limit ( 1 to 3 years)
Safe and Playable Environment
Three dedicated Staff
Main Special function in providing mother room for feeding
Special care is given to each and every individual kid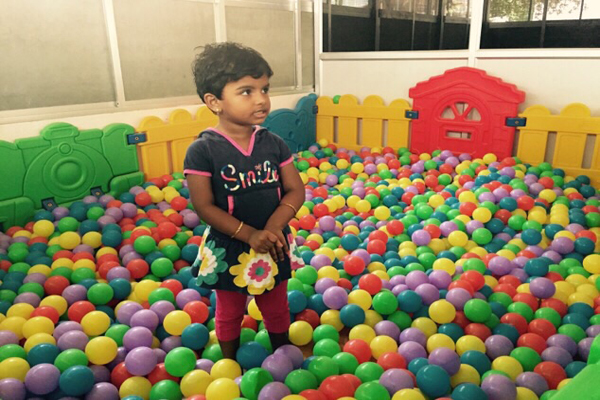 TRANSPORT
---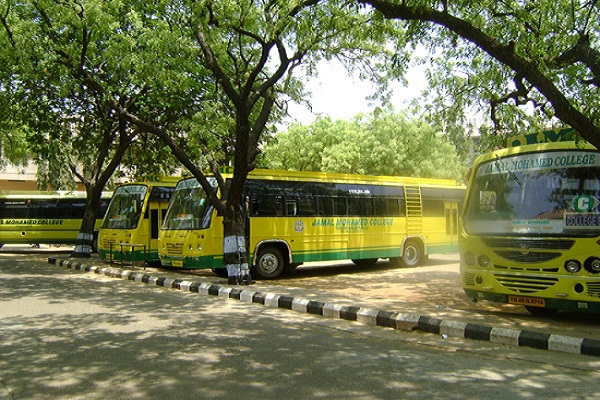 The College provides transport facility for the women students at nominal rates. About 15 college buses help the students to commute to the college from various places in the Tiruchirappalli City. All the buses reach the campus at 01:50 p.m. so that students get ready to attend the classes at 02.00 p.m. The buses leave the campus at 06:30 p.m.
COMMUNICATION LAB
---
Communication Training Centre offers the communication classes that offer the flexibility to study. Our highly innovative and unique mix of engaging Communication course is accomplished by assessments and interactive sessions that allow the students to progress consistently. Communication training center provides a Good approach that follows best practices for learning and practicing English Communication.
Communication English learning features in a very natural way similar to native speakers learn their first language. We analyze the issues faced by the Students, their capacity to cope up and devise a plan to improvise their skills in most effortless way of learning. Unlike other subjects, Communication learning attributes to frequent continuous practice and mind mapping techniques.
We adopt a distinct method beyond the classroom, we implement an integrated training strategy, our sessions are structured to be interactive and participative in a fun and dynamic environment. We engage students in practical sessions, and we motivate student to take in part discussions and presentations skills.
We just don't train, we inspire. We are aware that English learning is not like other subjects.
We allow students to practice additionally, interactive and regular feedback sessions from trainer, for the advantage to acquire skills faster.
We know that Language learning is as important as learning any other subject, in this competitive world having extraordinary technical skills underplay when once couldn't express and present himself properly. Our training objective is not just to make our students speak English as learners but as professionals.
Often our students are dumbfounded unable to talk, speaking at the appropriate time with appropriate vocabulary is the key to success, we eliminate fear of speaking, and we break the ice and make them feel free to open their mouth.
Speaking a language should be spontaneous and automatic. We encourage thoughtless speech that helps to exceed your hesitation due to inexperience. We guide you to come out of being scared of doing mistakes while speaking.
As learning a language through conscious effort doesn't yield the desired result we mainly rely on infusing language into the brain using modern brain infusion methods. Our methods are live ideas which include brainstorming sessions, careless gossiping, small talk, storytelling, thoughtless speech, jokes sessions, socializing, and critical thinking group Discussion etc.
Listening, by all means, is a way of acquiring language ability. We devote a part of the lessons by making you hear the listening content, educate, and evaluate. Our courses contain tests that help you to realize your level of competence.
Why study this course ?
Over two-third of the worlds scientists read in English
Three quarters of the worlds mail in written in English
80% of the world's electronically stored information is in English
Develop your career :
Most professional jobs require a good level in English- think how impressive "excellent level in English "will look on your CV
Business and commerce are increasingly driven by international trade and if you are going to grow in your job you need to be able to follow this trend
Technical skills are essential in modern industries and you need to be able to both read and write technical English if you are going to maintain your technical competence
About Class :
It's Not A Theory Class
You Are Going To Be Learn Through Computer
You Are Going To Learn Practically
You Will Lose Fear/Shyness/Hesitation
You will Get An Environment To Speak English
More than 300 students completed this course
Most of the students got placed in companies
About Course :
Level -A- Basic
Level -B- Intermediate
Phonetics
Communicative English
Situational conversation
Global communicative English
Error in spoken English
Grammar
Level -C- Advanced English
BBC Current Events
Dialogue (U.S Accents)
Idioms
Phrases
Projects
Handling Telephone Calls
Career Planning
Making C.V
Email Skill
Group Discussion
Debating
Public Speaking
Presentation Skills
Reporting
Soft Skills
IELTS (INTERNATIONAL ENGLISH LANGUAGE TESTING SYSTEM)
TOEFL (TEST OF ENGLISH AS A FOREIGN LANGUAGE)
Pronunciation
Vocabulary
Listening practice
Listening and speaking
Exercise
Timing for Girls
| Batches | Timing |
| --- | --- |
| First batch | 9.30 am to 10.30 am |
| Second batch | 10.45 am to 11.45 am |
| Third batch | 12.00 pm to 1.00 pm |
Timing for boys
| Batches | Timing |
| --- | --- |
| First batch | 2.30 pm to 3.30 pm |
| Second batch | 3.30 pm to 4.30 pm |
| Third batch | 4.30 pm to 5.30 pm |