THE KHAJAMIAN HOSTEL (FOR MEN)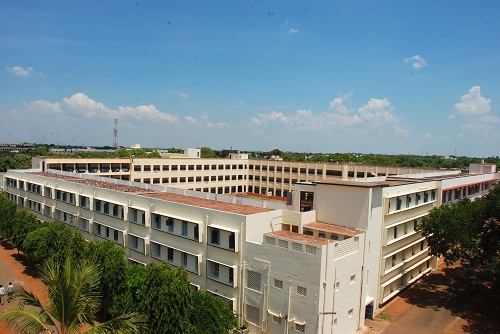 The Khajamian hostel is one of the biggest hostels in Tamil Nadu. The hostel has 8 blocks and can accommodate about 2200 students. Visitors' Room, Library, Reading Room, Television Room, Prayer Hall, Auditorium, Multipurpose Hall, Guest House, Internet Browsing Centre, Play Ground, Canteen, Water Coolers, Generators and Public Address System are the other facilities provided in the hostel.
The hostel provides 6 messes, each with a dining hall and modern kitchen facilities. Wholesome Non-Vegetarian and Vegetarian food is served in the hostel messes on dividing system. Committees including student representatives manage the messes. We expect the students and parents to understand and appreciate the difficulties involved in running a mess for a big group of students.
Admission
Admission to the hostel shall be sought only after obtaining admission into a course in the college. Application for admission to the hostel shall be made in the prescribed form. Every student before he is admitted to the hostel must give an undertaking in writing that he will submit himself to any rules & regulations imposed by authorities. This shall be endorsed by the parent / guardian also in the attached declaration form.
At the time of admission, the applicant should remit the prescribed hostel fee in full.
Rules & Regulations :
Strict Discipline should be maintained in the Hostel.
Silence should be maintained during the silence hours (06.30 p.m. to 06.30 a.m.) and compulsory study hours (08.45 p.m. to 10.00 p.m.). No student is permitted to loiter along the corridor during the study hours. Violation of this rule will be viewed seriously.
Every student holds the responsibility to keep their rooms neat and tidy.
Smoking is strictly prohibited in the hostel campus.
Hostel common properties are meant for common use and taking them for personal or group use is not entertained.
No student is permitted to stay back in the hostel during the class hours without the permission of the warden.
The warden should be kept informed of the sick students in the room to provide them with the necessary medical assistance and constant monitoring.
Complaints should be addressed to the faculty allotted and solutions should be drawn with the concern of the respective faculty.
Students are advised not to possess mobile phone. If found using in common places and during study hours or on complaint from other students, strict disciplinary action will be taken.
Every student should submit a separate permission letter to go home and they should sign in the movement register. Failure to adhere to this rule will be considered seriously.
Ragging is strictly prohibited. Inmates found involved in ragging will be sent out from both the hostel and college immediately.
Muslim inmates must attend daily prayers, Deeniyath classes and observe fasting during Ramzan.
Admission to the hostel in the consecutive years of the degree course will be made, only on the basis of the student's academic performance, discipline and leave history.
Administration
The Principal of the college is the warden of the hostel. The hostel is managed and monitored by the Directors and Co-ordinator with the help of deputy wardens and sub-wardens. The hostel office consisting of Hostel Manager and other supporting staff looks after the day-to-day operations of the messes.
| | | | |
| --- | --- | --- | --- |
| S.No | Name | Designation | Mobile No. |
| 1. | Dr. S. Ismail Mohideen | Principal & Warden | 9894113582 |
| 2. | Dr. K.N. Mohamed Fazil | Director - Hostel Adminstration | 9944546413 |
| 3. | Mr. M.J.M. Mujeebur Rahman | Director - Hostel Adminstration | --- |
| 4. | M. Syed Ali Padusha | Co-ordinator | 9865447289 |
| 5. | Dr. S. Nagoor Gani | Deputy Warden | 9443926560 |
| 6. | Dr. A. Zahir Hussain | Deputy Warden | 9865517744 |
| 7. | Dr. J. Mohamed Zeyavudheen | Deputy Warden | -- |
| 8. | Dr. A. Hidhayathulla | Deputy Warden | 9443424425 |
| 9. | Dr. K. Mohamed Rafi | Deputy Warden | 9629530993 |
| 10. | Dr.A.S. Haja Hameed | Deputy Warden | -- |
| 11. | Dr. K. Khaja Mohideen | Deputy Warden (Full Time) | -- |
THE WOMEN HOSTEL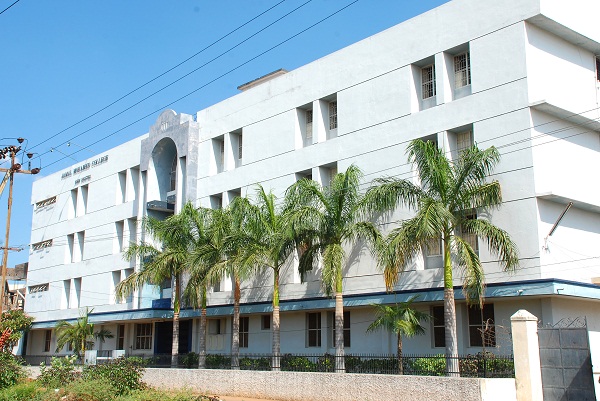 The Post Graduate New Hostel for women presently accommodates around 1180 students. The college management is helping 35 economically poor but meritorious students by providing free lodging and boarding facilities in the hostel. They have also introduced an 'Earn while Learn' scheme, in which, a few financially challenged students are given an opportunity to work in the hostel with appropriate remuneration. About 19 students are being benefited by this scheme.
The UGC-Women Hostel hostel block is built with the grant from the University Grants Commission for the deserving students. There are 16 rooms which can accommodate 102 inmates. A new floor in Kulsum Beevi block was opened in 2011. It contains 10 rooms for accommodating 80 students.
Administration
| S.No | Name | Designation | Mobile No. |
| --- | --- | --- | --- |
| 1. | Dr. S. Ismail Mohideen | Principal & Warden | 9894113582 |
| 2. | Dr. K.N. Mohamed Fazil | Director - Hostel Administration | 9944546413 |
| 3. | Mr. M.J.M. Mujeebur Rahman | Director - Hostel Administration | --- |
| 4. | Ms. A. Hajira Fathima | Director - Hostel Administration | ----- |
| 5. | Dr. A. Hidhayathulla | Deputy Warden | 9443424425 |
Facilities
A counter of Karur Vysya Bank in the hostel premises for the payment of hostel and mess fees.
A computer centre with internet facility.
Photo copier and a canteen facility.
A well-equipped library with more than 2000 volumes.
A telephone booth with STD and ISD facilities.
A spacious prayer hall.
A excellent auditorium with a seating capacity of 200 students where all the functions and programmes are conducted.
Three LCD televisions
A bio-gas plant that has the capacity of supplying 7 cylinders of gas per month.
A fully furnished guest house in the hostel premises.
A sanitary disposal plant
Three generators
Water coolers and water heaters are provided in all the blocks.
Deeniyath Diploma Course
The MUBALLIGA diploma in deeniyath education, is conducted in the hostel for the benefit of the Muslim students between 10.00 a.m. and 12.30 p.m. for acquiring the knowledge of Quran, and Hadhees. The Convocation for this diploma was conducted in which around 60 students received the Muballiga certificates.
Clubs and Associations
The following clubs and association are functioning in the hostel premises:
Leo Club
Rotaract Club
Anti Dowry Association
JAMAL MOHAMED COLLEGE - MOSQUE
Information to be updated soon
PRAYER HALL FOR MEN
Information to be updated soon
PRAYER HALL FOR WOMEN
Information to be updated soon
COUNSELLING CENTRE
Information to be updated soon
CAFETERIA
Information to be updated soon
CIVIL SERVICES COACHING CENTRE
Information to be updated soon
DAY CARE CENTRE
---
Neat and Clean Environment
Age Limit ( 1 to 3 years)
Safe and Playable Environment
Three dedicated Staff
Main Special function in providing mother room for feeding
Special care is given to each and every individual kid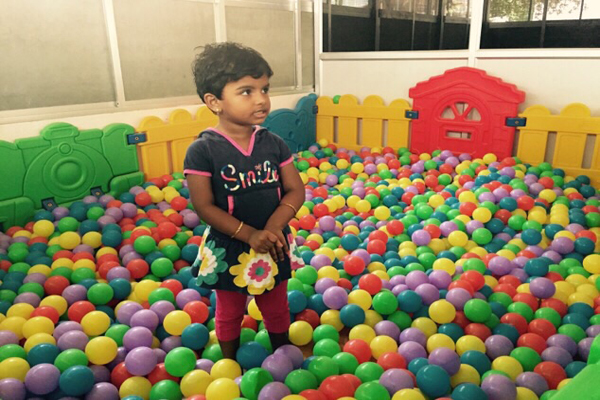 TRANSPORT
---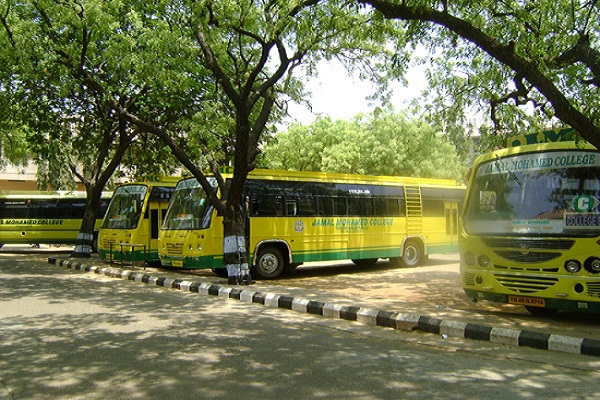 The College provides transport facility for the women students at nominal rates. About 15 college buses help the students to commute to the college from various places in the Tiruchirappalli City. All the buses reach the campus at 01:50 p.m. so that students get ready to attend the classes at 02.00 p.m. The buses leave the campus at 06:30 p.m.
COMMUNICATION LAB
---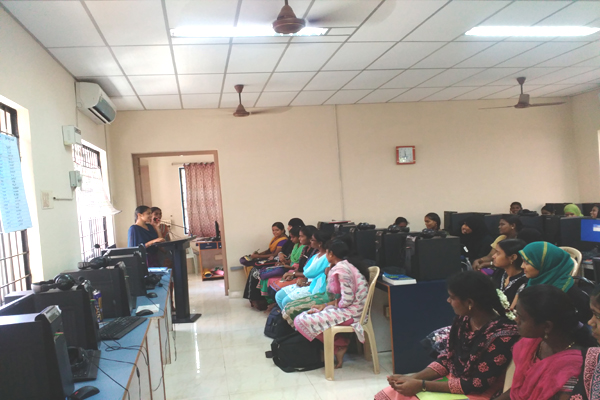 Our college is providing a certificate course on communication skills Communication prepares students for careers in a variety of key areas of the constantly evolving and dynamic I.T industry
Why study this course ?
Over two-third of the worlds scientists read in English
Three quarters of the worlds mail in written in English
80% of the world's electronically stored information is in English
Develop your career :
Most professional jobs require a good level in English- think how impressive "excellent level in English "will look on your CV
Business and commerce are increasingly driven by international trade and if you are going to grow in your job you need to be able to follow this trend
Technical skills are essential in modern industries and you need to be able to both read and write technical English if you are going to maintain your technical competence
About Class :
It's Not A Theory Class
You Are Going To Be Learn Through Computer
You Are Going To Learn Practically
You Will Lose Fear/Shyness/Hesitation
You will Get An Environment To Speak English
More than 300 students completed this course
Most of the students got placed in companies
About Course :
Level -A- Basic
Level -B- Intermediate
Phonetics
Communicative English
Situational conversation
Global communicative English
Error in spoken English
Grammar
Level -C- Advanced English
BBC Current Events
Dialogue (U.S Accents)
Idioms
Phrases
Projects
Handling Telephone Calls
Career Planning
Making C.V
Email Skill
Group Discussion
Debating
Public Speaking
Presentation Skills
Reporting
Soft Skills
IELTS (INTERNATIONAL ENGLISH LANGUAGE TESTING SYSTEM)
TOEFL (TEST OF ENGLISH AS A FORIGN LANGUAGE)
Pronunciation
Vocabulary
Listening practice
Listening and speaking
Exercise
Timing for Girls
| Batches | Timing |
| --- | --- |
| First batch | 9.30 am to 10.30 am |
| Second batch | 10.45 am to 11.45 am |
| Third batch | 12.00 pm to 1.00 pm |
Timing for boys
| Batches | Timing |
| --- | --- |
| First batch | 2.30 pm to 3.30 pm |
| Second batch | 3.30 pm to 4.30 pm |
| Third batch | 4.30 pm to 5.30 pm |
Name of the Co-ordinator : Dr.Shaik Karimullah, Associate Professor, Department of Hindi
Communication Trainer : Mr. Mohammed Ubada
CENTRE FOR ISLAMIC TAMIL CULTURAL RESEARCH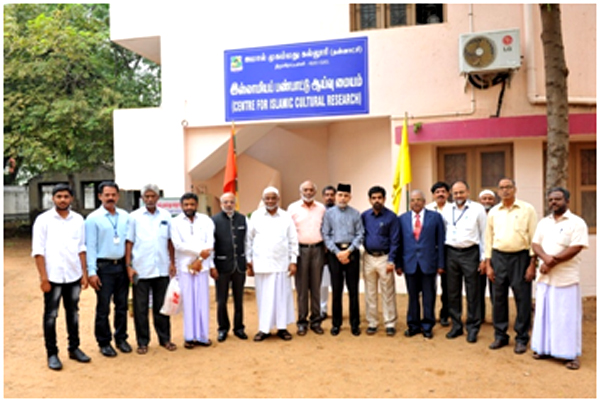 The Centre for Islamic Tamil Cultural Research was inaugurated on Thursday the 21st December 2017. The aim of the Centre is to bring out an authentic history of achievements of Muslims in Tamil Nadu. The research will be focussed on the various aspects of their history and culture, such as spread of Islam, folklore, customs and practices, literary contribution, art and architecture, role in the India freedom struggle, maritime trade, religious harmony etc...
Dr. S. Ismail Mohideen, Principal, presided over the function and welcomed the gathering, Haji. D. M. Jabarullah, Founder, Anjuman Arivagam, Ayyampet, inaugurated the centre. Dr.A.K.Khaja Nazeemudeen, Secretary and Correspondent, Haji.M.J.Jamal Mohamed, Treasurer, Dr.K.Abdus Samad, Assistant Secretary, Haji.K.A.Khaleel Ahamed, Former Treasurer, Thiru S.N.M. Ubaiyadullah, Former Minister and President, Muthamil Mandram, Thanjavur and Prof.K.M. Khadar Mohideen, National President of Indian Union Muslim League offered felicitation.
DR. Bakthavachala Bharathi, Director, Linguistic and Cultural Research Centre, Pondicherry delivered the keynote address.
DR.J. Raja Mohamad, Former Assistant Director, Department of Museums, Tamil Nadu and the Director designate of the Centre delivered a lecture on the proposed research themes.
Dr. A. Mohamed Ibraheem, Vice-Principal proposed vote of thanks. Scholars, Alumni, well-wishers, members of teaching staff and students attended the meeting in large numbers.
CICR declared open by Haji.D.M.Jabarullah

The guests on the dias

The Principal delivers the presidential address

The Secretary and Correspondent is Honoring Prof.K.M.K.,
the IUML President

Janab.S.N.M.Ubayadullah, former Minister of Tamilnadu
is being honoured by theTreasurer

Bakthavatchala Bharathi, eminent Anthropologist
delivers keynote address

Dr.J.Raja Mohamad, the Director of CICR Address the Gathering

A Section of the Audience