PLACEMENT CELL
---
ABOUT OUR CELL
The Placement Cell of our college was established in the year 1988. Since then the cell is providing extensive campus training programmes and campus recruitment programmes.
JMC has an exclusive team for Training and Placement that consists of well qualified Soft skill trainers and Technical trainers. They train the students to improve their employability skills by reducing the gap between corporate expectations and students skill sets viz., Aptitude, Communication, Personality Development, Employability Skill etc.
Training is given to the students within the academic time table in batches. The valuable inputs gained, help the students in fine-tuning their technical, Managerial and organizational skills.
OBJECTIVES
---
► To upgrade/enhance the student's skills/knowledge based on the organization / current industrial expectations.
► Aims to place maximum number of students based on their skill set through both On campus and Off-campus interviews.
PLACEMENT POLICY
★ ONE STUDENT ONE JOB POLICY
PLACEMENT REGISTRATION
---
★ Students should register their names by submitting Students' Data Sheet in the prescribed format given by the Placement Cell / Website. Only registered students are eligible to participate in the placement activities (Training & Campus Recruitment).
★ During Registration for the interview, it is mandatory to acknowledge the undertaking/ willingness for the same (Through Google form). If a student does not appear in that company even after expressing willingness, he/she will be restricted from the placements for the rest of the academic year.
★ No student will be allowed to participate in the selection process of a company unless he/she has formally applied for that job through placement portal.
★ The eligible / registered students must attend all the training programmes / workshops arranged by the Department/ Placement cell.
★ Department placement officer is the single point of contact for the concerned department students. All kinds of clarifications & communications (such as registration for placement assistance, updating the database, etc.,) should be routed through the concerned department placement officer and HOD.
★ Pre Placement Talk is mandatory for all Eligible Students to appear in all Companies that come for Campus Recruitments. After the Presentation (PPT), if the student is not satisfied with the company's offers/ profile, he /she can back out from the interview proceedings. No student will be allowed to back out from the recruitment process after clearing the 1st round (i.e Written test). If the student doesn't appear after the written test, he / she will be strictly debarred from further placement processes.
COMPANY VERIFICATION
---
★ Students are advised to thoroughly check up the profile and background of each company (package, job profile, terms and conditions, etc.) and take decisions BEFORE applying to any company participating in campus placements. Verifying the details is entirely the responsibility of the students.
★ Any clarification regarding salary break-up, job profile, place of work, bond details, date of joining etc. must be sought from the respective companies during the Pre-Placement Talk or at the time of interview.
★ Applying for a company or joining a company is entirely the willingness of the student. Our Placement Cell will not be liable for any discrepancies from the company's end later.
★ Final selection of students may be based on Resume screening/Written tests/Group discussions/Interviews etc. and may vary as per the company's requirement.
SELECTION / OFFER
---
★ Once a student is selected and intimated, his/her name will be removed from the placement rolls and he/she will not be eligible to appear for further campus interview(s).
★ However, Students who are placed in a company, having a package below 1.20 Lakhs will be permitted to appear in those companies that offer an annual package of 2 Lakhs and above.
★ Students waitlisted by a company can appear for other interviews until the selection of confirmation is obtained from the company.
★ The eligibility criteria imposed by the visiting company will be the final.
★ Students are requested to share the offer / Appointment letter to placement@jmc.edu
I Agree with the Terms and Conditions
GLOBAL ALUMNI JOB SEARCH ENGINE FOR JAMAL MOHAMED COLLEGE
---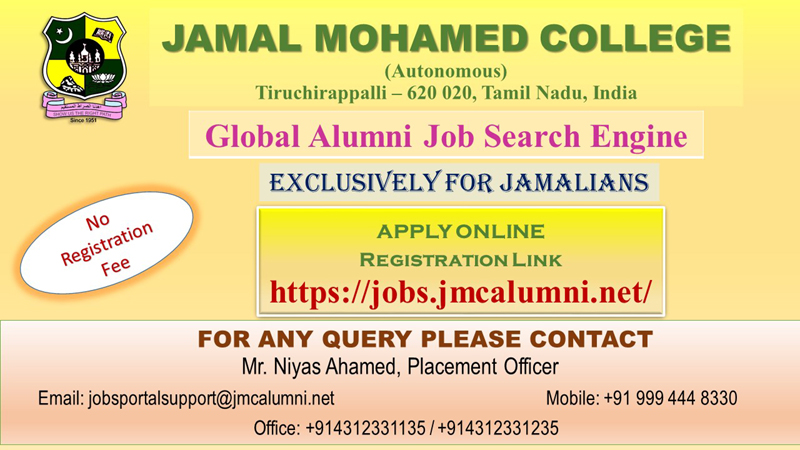 JMC Global Alumni Job Portal, an initiative was taken by our illustrious Alumni and established in January 2021, which helps our Jamal Mohamed College Students to connect Global Employers, to find and apply for their suitable Placement Positions / Jobs.
The Portal facilitates JMC job seekers to register their profile through online. Also, the portal enables employers to register and post their job vacancies on this portal.
This brings a mutual benefit for the employers to hire employees with talented Human Resources and also for our Jamalians to board onto a right place according to their skill set.
LINK:
► For Job Seekers (JMC): https://jobs.jmcalumni.net/users/register/jobseeker (Upto 2022 Batch)
► For Employers : https://jobs.jmcalumni.net/users/register/employer
For any further clarification please feel free to contact us.
Email: jobportalsupport@jmcalumni.net
GENERAL INSTRUCTIONS
---
★ Students attending campus interviews should adhere to the following instructions,
a) Report at the venue of Pre-Placement Talk and Interview as per the instructions.
b) Students should carry minimum 2 copies of their Resume, Photocopies of all Original certificates and 3 Passport size photographs.
c) A student should come with decent attire for the Pre Placement Talk / Recruitment Process.
★ It is the prime responsibility of the students to check all the updates related to Campus Recruitment Drives, its Eligibility / Dates / Venue / shortlisted names etc. available through their e-mail or JMC Placement page or directly from the placement department.
★ For all the Placement drives, students should bring college ID card, One Photo ID Proof, two Copies of resume affixed with photograph and photocopy of 10th, 12th UG/PG Original & photocopy of marks sheets.
★ Students participating in placement activities must keep their Identity Card with them at the time of Pre Placement Talk / Test /Group Discussion / Interviews etc.,
★ During induction, most of the companies insist on PAN card & Passport. So, the students are advised to apply for the same at the earliest.
CAMPUS RECRUITMENT
---
Campus Recruitment is one of the desired services of the student's community. Recruiting agencies of various kind have been visiting our college, nationally and internationally for the purpose of recruiting qualified and suitable candidates from information technology, Medical Transcription, Cellular services, Electrical appliances, Chemical industry and others. Every year 5 to 10 percent of the total eligible students are recruited, a routine programme of our college.
ACTIVITIES UNDERTAKEN BY THE PLACEMENT CELL
---
The following programmes are conducted & organized by placement cell
► Campus Recruitment Drives.
► Guest Lectures and Enlightenment Sessions by Industry Experts on Placement Opportunities.
► Employability skills Training programme.
► Communication Skills Development Programme.
► Personality Development Programme
► Campus Training Programme
► Mock Interview Sessions
► Development of Leadership Qualities
► Spoken English Class through Language Laboratory
► Competitive Examinations Coaching - NET/ SET
PLACEMENT TEAM
---
PLACEMENT COORDINATOR
Dr. SIVAKUMAR K
E-Mail: placement@jmc.edu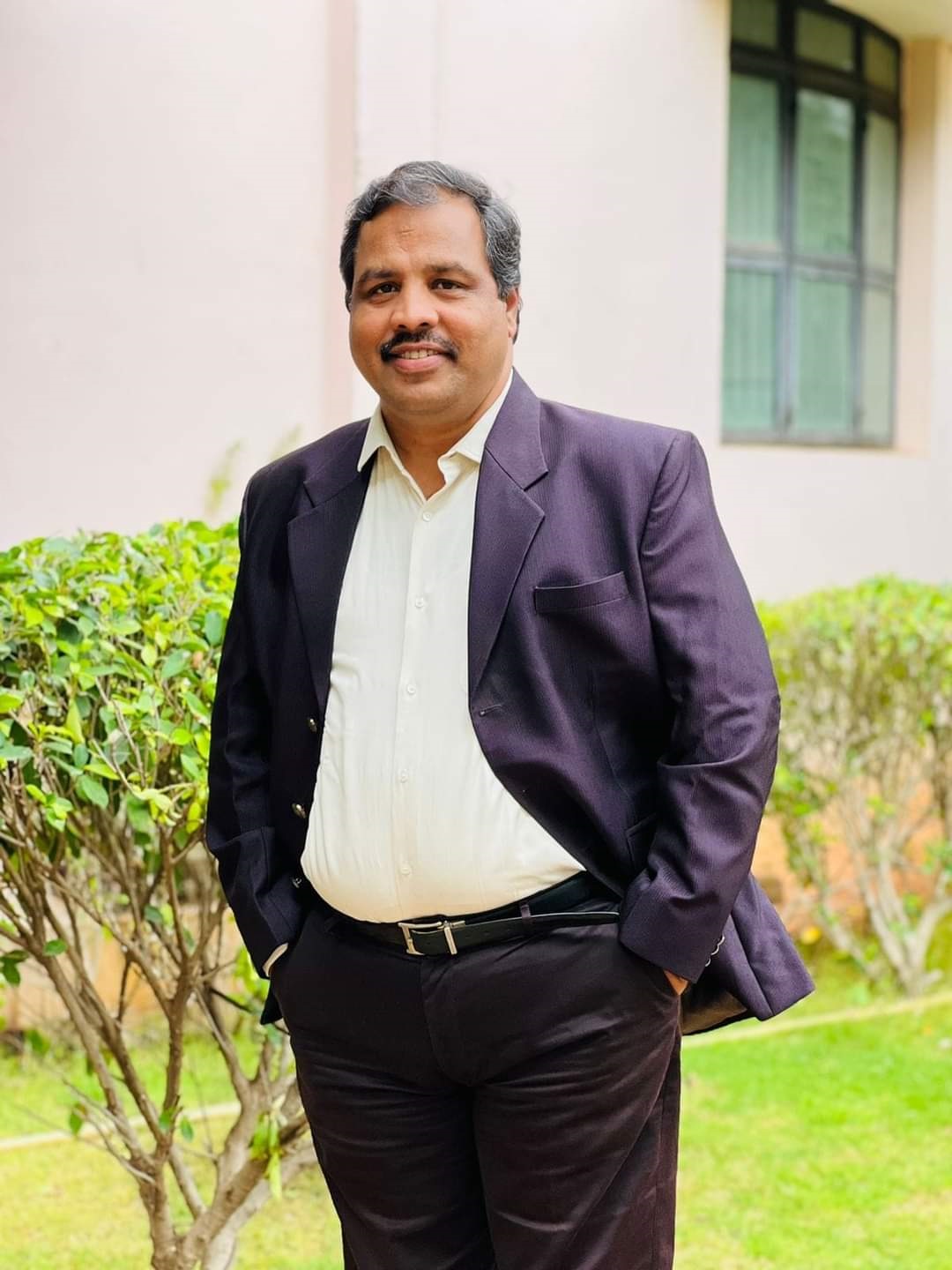 PLACEMENT OFFICER
Mr. Niyas Ahamed S
E-Mail: niyassjmc@gmail.com
Contact No. +91 99944 48330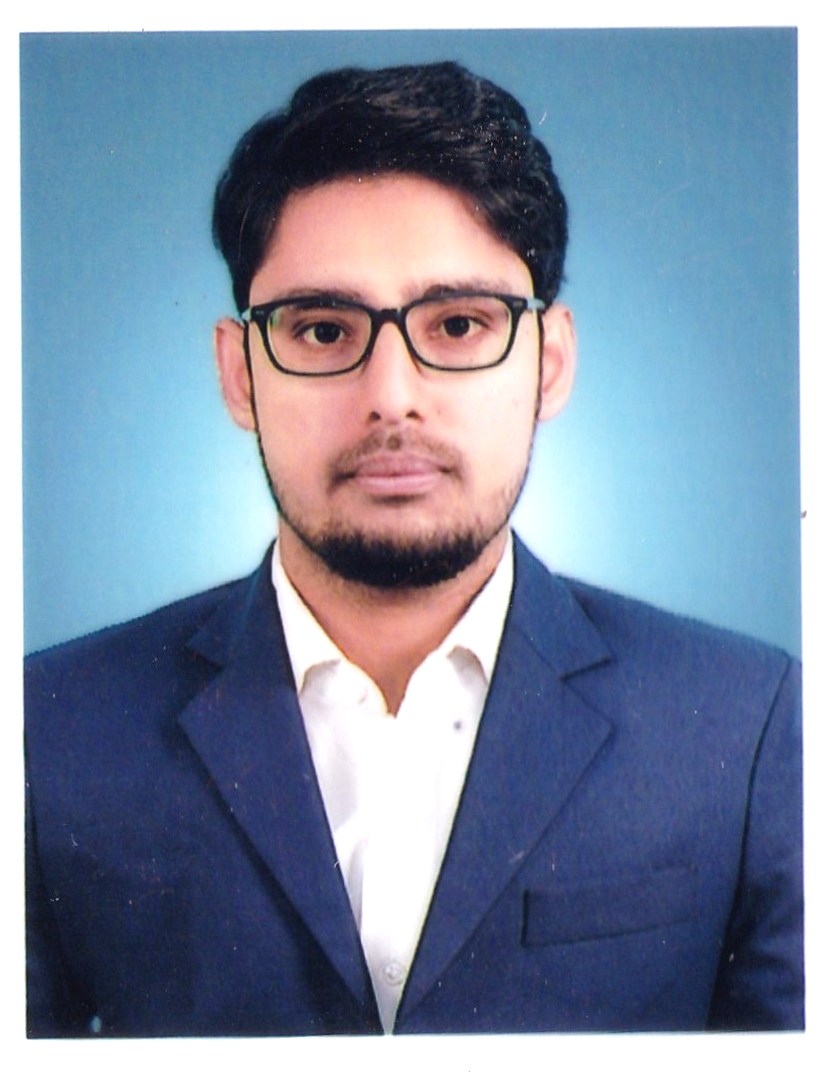 PLACEMENT CELL MEMBER
Dr. Mohamed Umar Farooq K
-------------------------------------------------------------------------------------------------------------------------------------------------------------------------------
Mr. Peerbasha S
-------------------------------------------------------------------------------------------------------------------------------------------------------------------------------
Mr. Mohammed Iqbal Y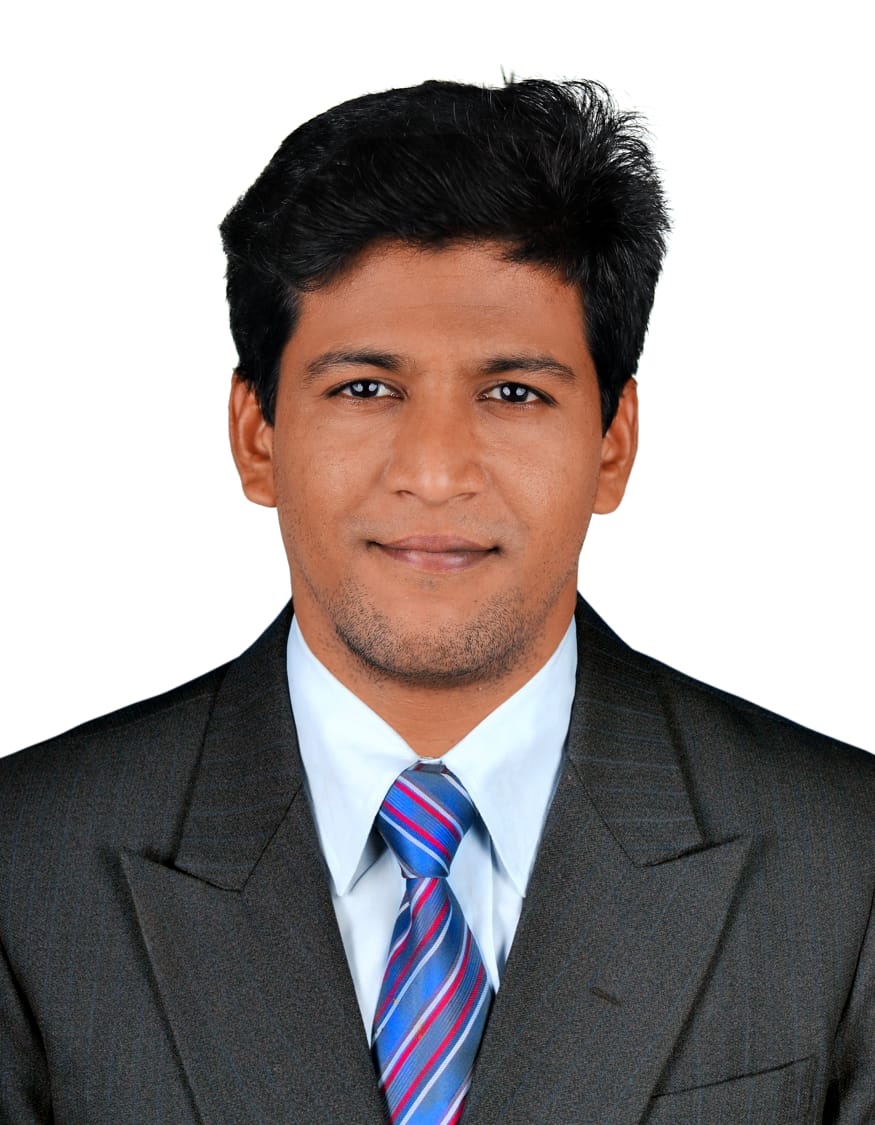 PLACEMENT MEMBER & COMMUNICATION TRAINER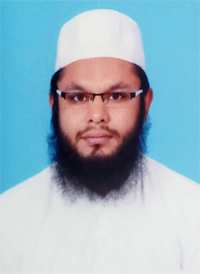 COMMUNICATION TRAINER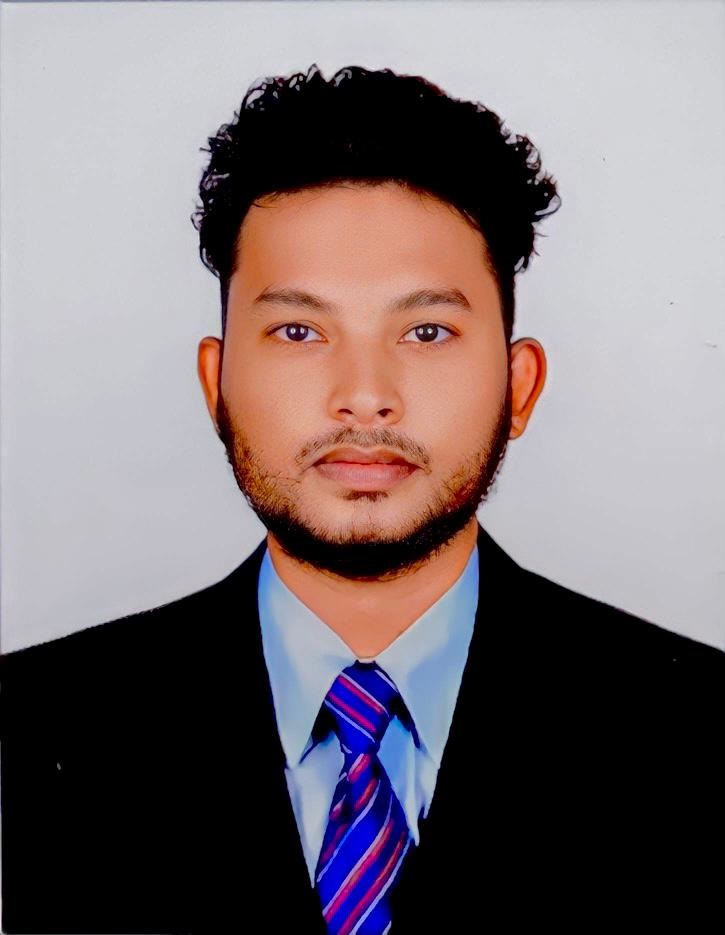 COMMUNICATION LAB
---
Communication Training Centre offers the communication classes that offer the flexibility to study. Our highly innovative and unique mix of engaging Communication course is accomplished by assessments and interactive sessions that allow the students to progress consistently. Communication training center provides a Good approach that follows best practices for learning and practicing English Communication.
Communication English learning features in a very natural way similar to native speakers learn their first language. We analyze the issues faced by the Students, their capacity to cope up and devise a plan to improvise their skills in most effortless way of learning. Unlike other subjects, Communication learning attributes to frequent continuous practice and mind mapping techniques.
We adopt a distinct method beyond the classroom, we implement an integrated training strategy, our sessions are structured to be interactive and participative in a fun and dynamic environment. We engage students in practical sessions, and we motivate student to take in part discussions and presentations skills.
We just don't train, we inspire. We are aware that English learning is not like other subjects.
We allow students to practice additionally, interactive and regular feedback sessions from trainer, for the advantage to acquire skills faster.
We know that Language learning is as important as learning any other subject, in this competitive world having extraordinary technical skills underplay when once couldn't express and present himself properly. Our training objective is not just to make our students speak English as learners but as professionals.
Often our students are dumbfounded unable to talk, speaking at the appropriate time with appropriate vocabulary is the key to success, we eliminate fear of speaking, and we break the ice and make them feel free to open their mouth.
Speaking a language should be spontaneous and automatic. We encourage thoughtless speech that helps to exceed your hesitation due to inexperience. We guide you to come out of being scared of doing mistakes while speaking.
As learning a language through conscious effort doesn't yield the desired result we mainly rely on infusing language into the brain using modern brain infusion methods. Our methods are live ideas which include brainstorming sessions, careless gossiping, small talk, storytelling, thoughtless speech, jokes sessions, socializing, and critical thinking group Discussion etc.
Listening, by all means, is a way of acquiring language ability. We devote a part of the lessons by making you hear the listening content, educate, and evaluate. Our courses contain tests that help you to realize your level of competence.
Why study this course ?
Over two-third of the worlds scientists read in English
Three quarters of the worlds mail in written in English
80% of the world's electronically stored information is in English
Develop your career :
Most professional jobs require a good level in English- think how impressive "excellent level in English "will look on your CV
Business and commerce are increasingly driven by international trade and if you are going to grow in your job you need to be able to follow this trend
Technical skills are essential in modern industries and you need to be able to both read and write technical English if you are going to maintain your technical competence
About Class :
It's Not A Theory Class
You Are Going To Be Learn Through Computer
You Are Going To Learn Practically
You Will Lose Fear/Shyness/Hesitation
You will Get An Environment To Speak English
More than 300 students completed this course
Most of the students got placed in companies
About Course :
Level -A- Basic
Level -B- Intermediate
Phonetics
Communicative English
Situational conversation
Global communicative English
Error in spoken English
Grammar
Level -C- Advanced English
BBC Current Events
Dialogue (U.S Accents)
Idioms
Phrases
Projects
Handling Telephone Calls
Career Planning
Making C.V
Email Skill
Group Discussion
Debating
Public Speaking
Presentation Skills
Reporting
Soft Skills
IELTS (INTERNATIONAL ENGLISH LANGUAGE TESTING SYSTEM)
TOEFL (TEST OF ENGLISH AS A FOREIGN LANGUAGE)
Pronunciation
Vocabulary
Listening practice
Listening and speaking
Exercise
Timing for Girls
| Batches | Timing |
| --- | --- |
| First batch | 9.30 am to 10.30 am |
| Second batch | 10.45 am to 11.45 am |
| Third batch | 12.00 pm to 1.00 pm |
Timing for boys
| Batches | Timing |
| --- | --- |
| First batch | 2.30 pm to 3.30 pm |
| Second batch | 3.30 pm to 4.30 pm |
| Third batch | 4.30 pm to 5.30 pm |
OUR RECRUITERS
---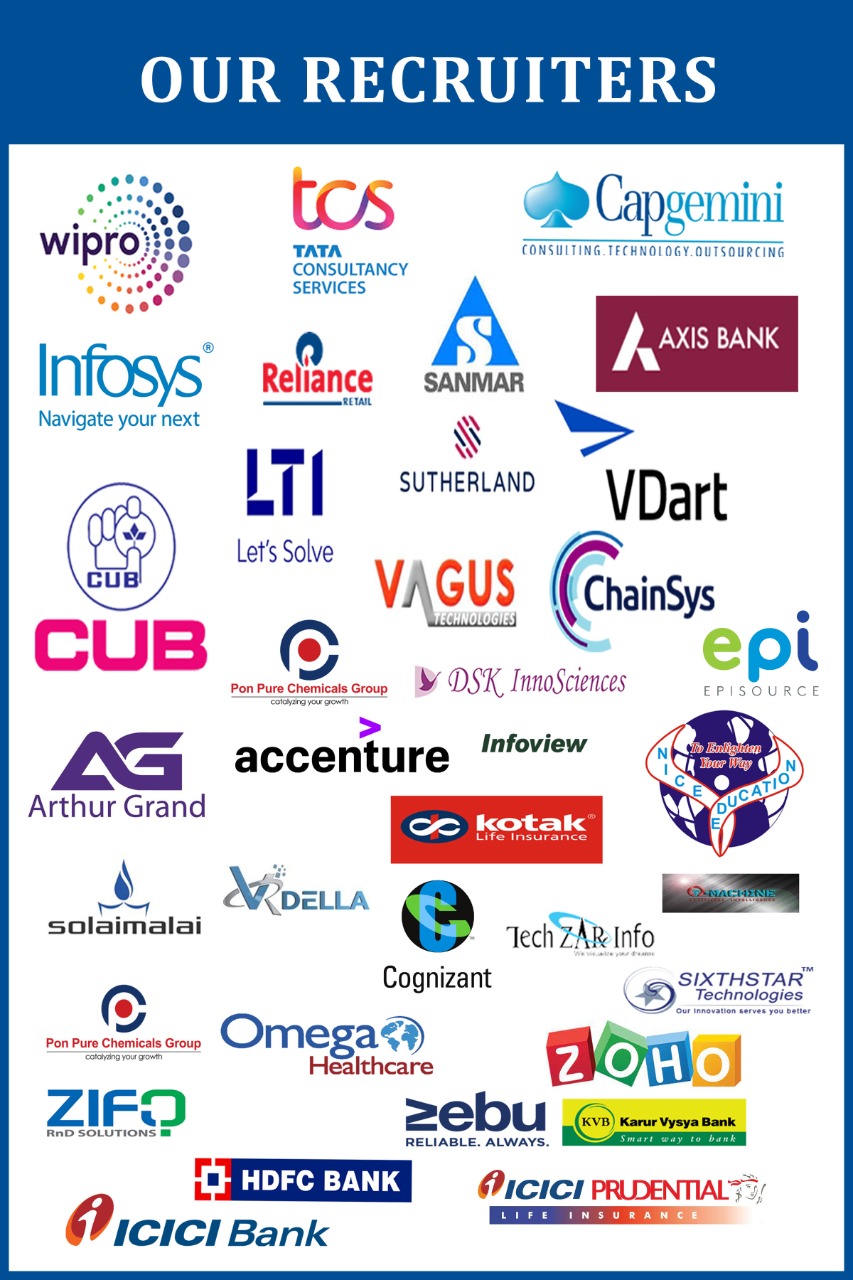 Contact Us
---
PLACEMENT CELL
JAMAL MOHAMED COLLEGE (AUTONOMOUS)
P. Box. No: 808,
#7, Race Course Road,
Khajanagar, Tiruchirappalli-620 020.
Email: placement@jmc.edu