Department of Computer Science
---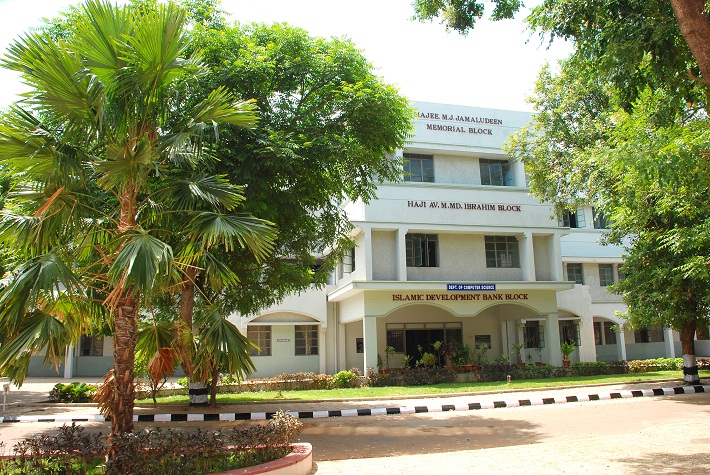 The Department established in the year 1986, offers programmes like B.Sc., BCA, B.Sc. (IT), PGDCA, M.Sc., M.Sc. (IT), M.Phil., and Ph.D. In addition, the Department offers the prestigious MCA Programme from the year 1988. The AICTE accorded extension of approval to both the MCA (Aided) and MCA (Self Finance) programmes with an intake of 120 every year. The Department has a team of qualified, dedicated, and experienced faculty members. There are 7 Government Aided faculty members and 58 self-financed staff members including 21 women. There are 10 state-of-the-art laboratories in the Department with a total of over 600 Computer Systems. A 1Gbps dedicated leased line internet facility has been provided in the computer centre. The Wi-Fi facility is also provided in the Department, in addition to the general library, the Department has a separate library. The Department also has two well-furnished seminar halls. The excellent infrastructure facilities available in the department and the quality education offered have been well appreciated by researchers and academicians.
Vision

To become a centre of excellence, empowering students to become innovative, globally competent and ethical professionals in computer science, information technology and related areas to cater to the requirements of industry and academia.
Mission
► To provide students with a focus on a relevant curriculum, through a combination of theory, practical and research-based learning that prepares them for a successful career in the computing field.
► To foster a culture of innovation and entrepreneurship among students, enabling them to develop and implement new solutions to real-world problems using the latest technologies and tools.
► To promote ethical and responsible use of technology, emphasizing the importance of security, privacy, and sustainability in all aspects of computing, and instilling a sense of social responsibility in our students.
ACADEMIC ADVISORY COMMITTEE
---
S.No
Name & Address
Contact Details
Category
1

Dr. Gopinath Ganapathy

Professor & Head Chair

School of Computer Science, Engg., and Applications,

Bharathidasan University, Khajamalai Campus

Tiruchirappalli – 620 023.

Mobile: 9842407008
E.Mail: gganapthy@bdu.ac.in

Well wisher
2

Mr. Mohammed Rafeeq

Software Consultant

Manchester, United Kingdom

Mobile: +44 756 131 5088
E.Mail: md_rafeeq@yahoo.com
Alumnus
3

Mr. Mohamed Faruk

Munich Reinsurance America Inc.

Princeton, New Jersey

United States of America

Mobile: +17 326608786
E.Mail: farukm@gmail.com
Alumnus
4

Dr. Mohamed Shohel Sayeed

Associate Professor, Chairperson

Centre for Intelligent Cloud Computing

Faculty of Information Science & Technology

Multimedia University, Melaka, Malaysia

Mobile: 06-2523296
E.Mail: shohel.sayeed@mmu.edu.my
Academician
5

Mr. Mohamed Kasim Khan

Scientist, National Mission on Education through ICT

Ministry of Education

Government of India Mumbai

Mobile: 9003707005
E.Mail: mohamedkasim@iitb.ac.in
Well wisher
E-CONTENTS
---
| # | Title | Author | View/Download |
| --- | --- | --- | --- |
| 1 | Basics of .NET Technology | Dr. S. Mohamed Iliyas | View/Download |
| 2 | JAVA PROGRAMMING | Dr. O.S. ABDUL QADIR | View/Download |
| 3 | DISTRIBUTED TECHNOLOGY | Dr. K. NAFEES AHAMED | View/Download |
| 4 | Sequential Circuits | Dr. S. Vaaheedha Kfatheen | View/Download |
| 5 | Binary Codes | Dr. S. Vaaheedha Kfatheen | View/Download |
| 6 | Web Programming | Dr. S. Vaaheedha Kfatheen | View/Download |
| 7 | Advanced Computer Architecture | Dr. S. Vaaheedha Kfatheen | View/Download |
| 8 | Advanced Computer Architecture | Dr. S. Vaaheedha Kfatheen | View/Download |
| 9 | Introduction to Machine Learning | A. BASHEER AHAMED | View/Download |
| 10 | Biological Neural Networks (BNN) Vs Artificial Neural Networks (ANN) | Dr. S. PEERBASHA | View/Download |
| 11 | Machine Learning With Python | Dr. S. PEERBASHA | View/Download |
| 12 | Database Management Systems | M. Riyaz Mohammed | View/Download |
| 13 | Attributes in DBMS | M. Riyaz Mohammed | View/Download |
| 14 | RDBMS | M. Riyaz Mohammed | View/Download |
| 15 | Components of ER Diagram | S. Prabavathi | View/Download |
| 16 | Inheritance in Java | J. Sahitha Banu | View/Download |
| 17 | Computer Organization and Architecture | J. Fathima Fouzia | View/Download |
| 18 | Introduction to Visual Studio | S. Benazir Butto | View/Download |
| 19 | Microprocessor | Dr. S. Vaaheedha Kfatheen | View/Download |
| 20 | Back Panel IO Connectors | A.M.S. Zunaitha Sulthana | View/Download |
| 21 | Cyber Security and Cyber Law | B. Diana | View/Download |
| 22 | Control Structures in C | M. Renuka | View/Download |
| 23 | Different forms of IF Statement | S. Munawara Banu | View/Download |
| 24 | Introduction to Data Structures | S. Tamil Fathima | View/Download |
| 25 | Queue in Data Structure | A. Zuligha Shafana | View/Download |
| 26 | Python Programming Basics | J. Hajiram Beevi | View/Download |
| 27 | A Practical Approach - Matlab Matrices | Dr. S. A. Jameel | View/Download |
| 28 | Data Structures and Algorithms | S. Prabhavathi | View/Download |
| 29 | PYTHON PROGRAMMING | Dr. S. PEERBASHA and Mr. Y. MOHAMMED IQBAL | View/Download |
| 30 | DIVIDE AND CONQUER CONCEPTS IN DAA | A BASHEER AHAMED AND A U USAIF AHAMED | View/Download |
| 31 | Mobile Application Development | M. Mohamed Zamam Nazar | View/Download |
| 32 | Distributed Operating Systems | M. Riyaz Mohammed | View/Download |
| 33 | Software Engineering | M. Riyaz Mohammed | View/Download |
| 34 | Computer Networks Unit - II & V | S. Prabhavathi | View/Download |
| 35 | Computer Graphics | M. Riyaz Mohammed | View/Download |
| 36 | New Project in Android Studio and using some basic controls | Mohamed Zamam Nazar | View/Download |
| 37 | How to install jdk and path setting for jdk | Mohamed Zamam Nazar | View/Download |
| 38 | Gradient Colors in Layout Background | Mohamed Zamam Nazar | View/Download |
| 39 | Background Image in Layout | Mohamed Zamam Nazar | View/Download |
| 40 | Change random colors for layout using buttons without using array | Mohamed Zamam Nazar | View/Download |
| 41 | Android Layout Part-1 | Mohamed Zamam Nazar | View/Download |
| 42 | Android layout Part-2 | Mohamed Zamam Nazar | View/Download |
| 43 | Dot Net Part-1 Framework in Tamil | N. Nagoor Meera | View/Download |
| 44 | Dot Net Part-2 IDE in Tamil | N. Nagoor Meera | View/Download |
| 45 | History of Android | Mohamed Zamam Nazar | View/Download |
| 46 | AWT in Java | S.Munawara Banu | View/Download |
| 47 | Basic Concepts of class in CPP | A.Basheer Ahamed | View/Download |
| 48 | Basics of Constructor | A.Basheer Ahamed | View/Download |
| 49 | Binary tree traversal, preorder inorder postorder | A.Fougiya Banu | View/Download |
| 50 | convert NFA to DFA | A.Fougiya Banu | View/Download |
| 51 | Multithreading in Java | J. Hajiram Beevi | View/Download |
| 52 | Dressing Tips for interviews | Y.Mohamed Iqbal | View/Download |
| 53 | Exception Handling in Java | J. Hajiram Beevi | View/Download |
| 54 | File System Interface in Operating System | Khairunnisa | View/Download |
| 55 | Huffman Coding Example | A.H. Asmathunisha | View/Download |
| 56 | Multilevel Inheritance | A.Basheer Ahamed | View/Download |
| 57 | Multiple inheritance | A.Basheer Ahamed | View/Download |
| 58 | Positioning Techniques in computer Graphics | A.M.S. Zunaitha Sultana | View/Download |
| 59 | Single Level Inheritance | A.Basheer Ahamed | View/Download |
| 60 | Software engineering | S.Prabhavathi | View/Download |
| 61 | Things must bring for interview | Y.Mohammed Iqbal | View/Download |
| 62 | Types of interview rounds | Y.Mohammed Iqbal | View/Download |
| 63 | Unit 4-Files and IO stream in java | M.Renuka | View/Download |
| 64 | DFA to regular expression -State removal method Part-2 | J. Hajiram Beevi | View/Download |
| 65 | Higher education System Part-2 | J. Hajiram Beevi | View/Download |
| 66 | Higher education system part-3 | J. Hajiram Beevi | View/Download |
| 67 | Higher education system | J. Hajiram Beevi | View/Download |
| 68 | Higher education UGC NET part-IV | J. Hajiram Beevi | View/Download |
| 69 | Big Data Analytics | R. Senthamil Selvi | View/Download |
| 70 | Teams and Team buildings Part1 | K. Sultana | View/Download |
| 71 | Team and Team Buildings Part2 | K. Sultana | View/Download |
| 72 | NORMAL FORMS | M. Riyaz Mohammed | View/Download |
| 73 | JAVA PROGRAMMING | A.USAIF AHAMED | View/Download |
| 74 | DIGITAL LOGICS | N.NAGOOR MEERA | View/Download |
| 75 | DIGITAL LOGICS-EXCESS3 | N.NAGOOR MEERA | View/Download |
| 76 | DIGITAL LOGIC-LOGIC GATES | N.NAGOOR MEERA | View/Download |
| 77 | DIGITAL LOGICS-NUMBER SYSTEM PART1 | N.NAGOOR MEERA | View/Download |
| 78 | DIGITAL LOGICS-NUMBER SYSTEM PART2 | N.NAGOOR MEERA | View/Download |
| 79 | DIGITAL LOGICS-NUMBER SYSTEM PART3 | N.NAGOOR MEERA | View/Download |
| 80 | DIGITAL LOGICS- NUMBER SYSTEM PART4 | N.NAGOOR MEERA | View/Download |
| 81 | DIGITAL LOGICS-NUMBER SYSTEM PART5 | N.NAGOOR MEERA | View/Download |
| 82 | MICROPROCESSOR FUNDAMENTALS-PC H/W PART1 | N.NAGOOR MEERA | View/Download |
| 83 | MICROPROCESSOR FUNDAMENTALS-BIOS SETUP | N.NAGOOR MEERA | View/Download |
| 84 | COMPUTER NETWORKS | N.NAGOOR MEERA | View/Download |
| 85 | COMPUTER NETWORKS | N.NAGOOR MEERA | View/Download |
| 86 | DATA STRUCTURES PRE IN POST ORDER | N.NAGOOR MEERA | View/Download |
| 87 | .NET TECHNOLOGIES | N.NAGOOR MEERA | View/Download |
| 88 | .NET TECHNOLOGIES PART3 | N.NAGOOR MEERA | View/Download |
| 89 | Computer Graphics | Dr.A.R. Mohamed Shanavas | View/Download |
| 90 | R Programming | Dr. O.S. ABDUL QADIR | View/Download |
| 91 | Resource Management Techniques | Dr. O.A. Mohamed Jafar | View/Download |
| 92 | Object Oriented Programming with C++ | Dr. O.A. Mohamed Jafar | View/Download |
| 93 | MACHINE LEARNING PART1 | Dr.M.Sabibullah | View/Download |
| 94 | MACHINE LEARNING PART2 | Dr.M.Sabibullah | View/Download |
| 95 | BIG DATA ANALYTICS | Dr.M.Sabibullah | View/Download |
| 96 | MACHINE LEARNING PART3 | Dr.M.Sabibullah | View/Download |
| 97 | PROJECT WORK - PROJECT GUIDELINES | Dr.M.Sabibullah | View/Download |
| 98 | web technology | K.A.USAIF AHAMED | View/Download |
| 99 | PROGRAMMING IN C | Dr.S.ABDUL SALEEM | View/Download |
| 100 | C PROGRAMMING LAB-1 | Dr.S.ABDUL SALEEM | View/Download |
| 101 | C PROGRAMMING LAB-2 | Dr.S.ABDUL SALEEM | View/Download |
| 102 | DIGITAL ELECTRONICS- SEQUENTIAL CIRCUITS | Dr.S.ABDUL SALEEM | View/Download |
| 103 | FUNCTIONS IN C PROGRAM | Dr.S.ABDUL SALEEM | View/Download |
| 104 | PYTHON PROGRAMMING | A.ASHAR ALI | View/Download |
| 105 | C++ PROGRAMMING | DR. M.A.JAMAL MOHAMED YASEEN ZUBEIR | View/Download |
| 106 | COMPUTER NETWORKS AND CRYPTOGRAPGY | DR. M.A.JAMAL MOHAMED YASEEN ZUBEIR | View/Download |
| 107 | JAVA PROGRAMMING | DR. M.A.JAMAL MOHAMED YASEEN ZUBEIR | View/Download |
| 108 | COMPUTER NETWORKS | DR. M.A.JAMAL MOHAMED YASEEN ZUBEIR | View/Download |
| 109 | PROGRAMMING IN C | DR. M.A.JAMAL MOHAMED YASEEN ZUBEIR | View/Download |
| 110 | C++ PROGRAMMING | DR. M.A.JAMAL MOHAMED YASEEN ZUBEIR | View/Download |
| 111 | Introduction to PhP Programming | A BASHEER AHAMED | View/Download |
| 112 | Linked Representation of Stack and Queue | A. ZULIGHA SHAFANA | View/Download |
| 113 | BINARY SEARCH | A. ZULIGHA SHAFANA | View/Download |
| 114 | Operating Systems Virtual Machines, OS Design Considerations For Multiprocessor and Multicore | Khairunnisa | View/Download |
| 115 | Memory Management: Memory Management Requirements | Khairunnisa | View/Download |
| 116 | VB.NET (if... and select...) | Khairunnisa | View/Download |
| 117 | VB.NET - Loops | Khairunnisa | View/Download |
| 118 | Internet of Things | K. SULTANA | View/Download |
| 119 | Addition of Two Numbers in C++ | M. Renuka | View/Download |
| 120 | B+ Trees Index Files and its Structures | Mubeena Mohamed Nasurudeen | View/Download |
| 121 | Stack in Data Structures | Mubeena Mohamed Nasurudeen | View/Download |
| 122 | For Loop in C++ | M. Renuka | View/Download |
| 123 | Factorial of a Number in C++ | M. Renuka | View/Download |
| 124 | IFStatement in C++ | M. Renuka | View/Download |
| 125 | PROGRAMMING IN C | Dr. O.S. ABDUL QADIR | View/Download |
| 126 | Single Inheritance in C++ | M. Renuka | View/Download |
| 127 | PYTHON PROGRAMMING | Dr. Mozibur Raheman Khan | View/Download |
| 128 | Operating Systems - Scheduling Algorithms | KHAIRUNNISA | View/Download |
| 129 | Queue in Data Structure | Mubeena Mohamed Nasurudeen | View/Download |
| 130 | Application for Sending Email using JavaMail API in NETBEANS IDE | Mubeena Mohamed Nasurudeen | View/Download |
| 131 | Stress Management | K. Sultana | View/Download |
| 132 | PC Hardware and Trouble Shooting (Part 1) | R. SUMITHRA | View/Download |
| 133 | PC Hardware and Trouble Shooting (Part 2) | R. SUMITHRA | View/Download |
| 134 | PC Hardware and Trouble Shooting (Part 3) | R. SUMITHRA | View/Download |
| 135 | PC Hardware and Trouble Shooting (Part 4) | R. SUMITHRA | View/Download |
| 136 | Cryptography | R. SUMITHRA | View/Download |
| 137 | Algorithms of Congestion Control | T. Imraz Banu | View/Download |
| 138 | Broadcast Routing and Congestion Control | T. Imraz Banu | View/Download |
| 139 | MULTILEVEL AND HIERARCHICAL INHERITANCE IN JAVA | T. Imraz Banu | View/Download |
| 140 | Inheritance in JAVA | T. Imraz Banu | View/Download |
| 141 | Hierarchical Routing | T. Imraz Banu | View/Download |
| 142 | Data Mining and Knowledge Discovery in Databases | R. Senthamil Selvi | View/Download |
| 143 | The OSI Model | R. Senthamil Selvi | View/Download |
| 144 | Difference between C and C++ | R. Senthamil Selvi | View/Download |
| 145 | Operators in C | R. Senthamil Selvi | View/Download |
| 146 | Data Structure and its types | R. Senthamil Selvi | View/Download |
| 147 | Set Operations - R Programming | Lt. J. Hajiram Beevi | View/Download |
| 148 | Math Functions - R Programming | Lt. J. Hajiram Beevi | View/Download |
| 149 | Performing Statistical Calculations - R Programming | Lt. J. Hajiram Beevi | View/Download |
| 150 | Introduction of MySQL | Lt. J. Hajiram Beevi | View/Download |
| 151 | MySQL - Modifying the database | Lt. J. Hajiram Beevi | View/Download |
| 152 | MySQL - Basic Query Structure | Lt. J. Hajiram Beevi | View/Download |
| 153 | Functional Dependency | S. Sabura Begam | View/Download |
| 154 | Types of Keys | S. Sabura Begam | View/Download |
| 155 | Types of Research Studies | S. Sabura Begam | View/Download |
| 156 | Organizational Dynamics | K. Sultana | View/Download |
| 157 | Frustration | K. Sultana | View/Download |
| 158 | Managing Change | K. Sultana | View/Download |
| 159 | Boolean Expressions SOP & POS | A. Zuligha Shafana | View/Download |
| 160 | Logic Gates | A. Zuligha Shafana | View/Download |
| 161 | Traversing Binary Tree | A. Zuligha Shafana | View/Download |
| 162 | Machine Learning with Python- An Eye Opener Master class | Dr. S. Peerbasha | View/Download |
| 163 | Effective CV Writing Tips | Dr. S. Peerbasha | View/Download |
| 164 | Employability Skills Enrichment Programme | Dr. S. Peerbasha & Mr. Y. Mohammed Iqbal | View/Download |
| 165 | Specialized Software Process Models | Dr.S. Peerbasha | View/Download |
| 166 | Machine Learning and Artificial Intelligence Unit-IV Part-1 (Learning) | Dr. G. Ravi & Dr. S. Peerbasha | View/Download |
| 167 | Artificial Intelligence and Machine Learning Unit-IV Part-2 (Clustering) | Dr. G. Ravi & Dr. S. Peerbasha | View/Download |
| 168 | Artificial Intelligence and Machine Learning Unit-IV Part-3 (Reinforcement Learning) | Dr. G. Ravi & Dr. S. Peerbasha | View/Download |
| 169 | Machine Learning Unit-5 Artificial Neural Nets | Dr. G. Ravi & Dr. S. Peerbasha | View/Download |
| 170 | Software Engineering Unit-4 Software Testing Fundamentals | Dr. S. Peerbasha & Mr. Y. Mohammed Iqbal | View/Download |
| 171 | Software Engineering Unit-5 Software Quality Assurance | Dr. S. Peerbasha & Mr. Y. Mohammed Iqbal | View/Download |
| 172 | Sampling Techniques | S. Sabura Begam | View/Download |
| 173 | Distance Vector Routing Algorithm | S. Munawara Banu | View/Download |
| 174 | Topology in Computer Networks | S. Munawara Banu | View/Download |
| 175 | Simplifying Boolean Expressions using Karnaugh Map | S. Munawara Banu | View/Download |
| 176 | Networking Devices | S. Munawara Banu | View/Download |
| 177 | HTML Forms | S. Munawara Banu | View/Download |
| 178 | De Morgans Theorems | S. Munawara Banu | View/Download |
| 179 | Artificial Intelligence | S. Sabura Begam | View/Download |
| 180 | PYTHON PROGRAMMING | M.RIYAZ MOHAMMED | View/Download |
| 181 | Statisitical Programming Language for Data Science | MOHAMED ARIF KHAN.K | View/Download |
| 182 | RMT - Linear Programming Problem | Dr. O.A. Mohamed Jafar | View/Download |
| 183 | OFFICE AUTOMATION TOOLS | MOHAMED ARIF KHAN.K | View/Download |
| 184 | CONCEPTS OF COMPUTER NETWORKS | S Balasubramanian | View/Download |
| 185 | BASICS OF COMPUTER | S.MOHAMED IDRIS | View/Download |
| 186 | COMPUTER HARDWARE BASICS | S.MOHAMED IDRIS | View/Download |
| 187 | INTRODUCTION TO NETWORKS | S. BALASUBRAMANIAN | View/Download |
| 188 | INTRODUCTION TO NUMBER SYSTEMS | S. BALASUBRAMANIAN | View/Download |
| 189 | MULTIMEIA BASICS | S. BALASUBRAMANIAN | View/Download |
| 190 | NUMBER SYSTEM CONVERSION | S. BALASUBRAMANIAN | View/Download |
| 191 | R PROGRAMMING LAB PRACTICAL | S.RASHEED MANSOOR ALI | View/Download |
| 192 | R PROGRMMING WITH STATISTICS - UNIT 2 | S.RASHEED MANSOOR ALI | View/Download |
| 193 | R PROGRAMMING WITH STATISTICS | S.RASHEED MANSOOR ALI | View/Download |
| 194 | SHELL META CHARACTERS | J.MOHAMED THAMEEM | View/Download |
| 195 | SYSTEM ADMIN IN LINUX | J.MOHAMED THAMEEM | View/Download |
| 196 | GNOME ENVIRONMENT | J.MOHAMED THAMEEM | View/Download |
| 197 | LINUX INTRODUCTION | J.MOHAMED THAMEEM | View/Download |
| 198 | Introduction to VISUAL BASIC | I. SIDDIK | View/Download |
| 199 | CONCEPT OF QUEUE | L.IMAMDHEEN | View/Download |
| 200 | Intorduction to C++ | I. SIDDIK | View/Download |
| 201 | Constructor and Destructor in C++ | I. SIDDIK | View/Download |
| 202 | Introduction to SQL | I. SIDDIK | View/Download |
| 203 | Token in Object Programming Language | B. MOHAMED ASIF | View/Download |
| 204 | Object Oriented Programming IN C++ | M. BALAKRISHNAN | View/Download |
| 205 | COMCEPT OF OPERATING SYSTEMS | L.IMAMDHEEN | View/Download |
| 206 | Object Oriented Programming IN C++ | M. BALAKRISHNAN | View/Download |
| 207 | Basic concepts in Object Programming Language | T. JAVITH HUSSAIN | View/Download |
| 208 | CONCEPT OF DATA STRUCTURES | L.IMAMDHEEN | View/Download |
| 209 | Software Engineering - Testing | N. AHAMED JAVITH | View/Download |
| 210 | Software Engineering - System Engineering Hierarchy | N. AHAMED JAVITH | View/Download |
| 211 | Area of Circle Program in VB.Net | S. Benazir Butto | View/Download |
| 212 | OOBS in Java | N. AHAMED JAVITH | View/Download |
| 213 | Check the character is vowel or not Program in VB.Net | S. Benazir Butto | View/Download |
| 214 | Value Education - Values in Life | N. AHAMED JAVITH | View/Download |
| 215 | Message Box and Input Box function in VB.Net | S. Benazir Butto | View/Download |
| 216 | Value Education - Role of Men in Family | N. AHAMED JAVITH | View/Download |
| 217 | Soft Skill Development - Resume Preparation | N. AHAMED JAVITH | View/Download |
| 218 | INTRODUCTION-PYTHON | A.JAINULABUDEEN | View/Download |
| 219 | Spyware | Ayisha Farhath Abbas | View/Download |
| 220 | Java | Ayisha Farhath Abbas | View/Download |
| 221 | Digital Logics | Ayisha Farhath Abbas | View/Download |
| 222 | Applications of Mathematics in Computer Science | Dr. D. I. George Amalarethinam | View/Download |
| 223 | Curricular Aspects | Dr. D. I. George Amalarethinam | View/Download |
| 224 | Basic Probability Distributions in R Programming | Dr. M. Mohamed Surputheen | View/Download |
| 225 | Numerical Methods | Dr. M. Mohamed Surputheen | View/Download |
| 226 | Predicate Logic | Dr. G. Ravi | View/Download |
| 227 | Digital Electronics | Z.Harith Ahamed | View/Download |
| 228 | Multimedia and its Applications | Z.Harith Ahamed | View/Download |
| 229 | DATA SCIENCE WITH BIG DATA | S.RASHEED MANSOOR ALI | View/Download |
| 230 | R Programming with Statistics -UNIT 4 | S.RASHEED MANSOOR ALI | View/Download |
| 231 | DATASCIENCE WITH BIGDATA | S.RAHEED MANSOOR ALI | View/Download |
| 232 | DATA STRUCTURES ARRAYS | B.MOHAMED FAIZE BASHA | View/Download |
| 233 | DATA STRUCTURES TYPES OF ARRAY | B.MOHAMED FAIZE BASHA | View/Download |
| 234 | MOTIVATION | B.MOHAMED FAIZE BASHA | View/Download |
| 235 | TOKENS IN OBJECT ORIENTED PROGRAMMING | B. MOHAMED ASIF | View/Download |
| 236 | Research methodology | Dr. S. Vaaheedha Kfatheen | View/Download |
| 237 | BASIC OBJECT ORIENTED CONCEPTS | T.JAVITH HUSSAIN | View/Download |
| 238 | System Analysis & Design | Dr. S. Vaaheedha Kfatheen | View/Download |
| 239 | Grid Computing | Dr. S. Vaaheedha Kfatheen | View/Download |
| 240 | Digital Image Processing | Dr. S. Vaaheedha Kfatheen | View/Download |
| 241 | Digital Logic | N. JAFRIN | View/Download |
| 242 | Python Programming | N. JAFRIN | View/Download |
| 243 | DBMS | N. JAFRIN | View/Download |
| 244 | OPERATING SYSTEMS | P.SHAIK ABDULLAH | View/Download |
| 245 | DATA STRUCTURES ARRAY | B.MOHAMED FAIZE BASHA | View/Download |
| 246 | DATA STRUICTURES TYPES OF ARRAY | B.MOHAMED FAIZE BASHA | View/Download |
| 247 | MOTIVATION | B.MOHAMED FAIZE BASHA | View/Download |
| 248 | IMPORTANCE OF OOPS | A.ABDUL SAMATHU | View/Download |
| 249 | CONSTRUCTOR IN CPP | A.JAINULABDEEN | View/Download |
| 250 | OOPS IN C++ | DR.M.A.JAMAL MOHAMED YASEEN ZUBEIR | View/Download |
| 251 | Random Number and Random Variate Generation | Dr. M. Mohamed Surputheen | View/Download |
| 252 | AI -HEURISRTIC TECHNIQUES | Dr.R.INBARAJ | View/Download |
| 253 | ARTIFICIAL INTELLIGENCE AND MACHINE LEARNING -UNIT 4 | Dr.R.INBARAJ | View/Download |
| 254 | OB -UNIT 1 | Dr.R.INBARAJ | View/Download |
| 255 | OB - UNIT 3 | Dr.R.INBARAJ | View/Download |
| 256 | OB -UNIT4 | Dr.R.INBARAJ | View/Download |
| 257 | OB -UNIT 5 | Dr.R.INBARAJ | View/Download |
| 258 | DIGITAL LOGIC FUNDAMENTALS -UNIT 2 | Dr.R.INBARAJ | View/Download |
| 259 | OFFICE AUTOMATION -UNIT 1 | Dr.R.INBARAJ | View/Download |
| 260 | OFFICE AUTOMATION - UNIT 2 | Dr.R.INBARAJ | View/Download |
| 261 | OFFICE AUTOMATION - UNIT 3 | Dr.R.INBARAJ | View/Download |
| 262 | TRANSMISSION MODES | A.U. SHABEER AHAMED | View/Download |
| 263 | TYPES OF NETWORKS | A.U. SHABEER AHAMED | View/Download |
| 264 | Software Project Develoment | M.KAMAL | View/Download |
| 265 | MASTERING WEB APPLICATIONS | M.KAMAL | View/Download |
| 266 | DATA SCIENCE AND MACHINE LEARNING | M.KAMAL | View/Download |
| 267 | RESEARCH ETHICS AND PLAGARISM | Dr.M.RAJAKUMAR | View/Download |
| 268 | NO TO PLAGARISM | Dr.M,RAJAKUMAR | View/Download |
| 269 | PYTHON PROGRAMMING | Dr.M.RAJAKUMAR | View/Download |
| 270 | LOOPS AND FUNCTIONS | K.ANWAR SATHIK | View/Download |
| 271 | MICROPROCESSOR ARCHITECTURE | SYED KOUSAR NIASI | View/Download |
| 272 | Run a Java Program Without Compilation | Dr. M. Mohamed Surputheen | View/Download |
| 273 | MICROPROCESSOR 8085 - ASSEMBLY LANGUAGE PROGRAMS | Dr.K.SYED KOUSAR NIASI | View/Download |
| 274 | MICROPROCESSOR 8086 - ASSEMBLY LANGUAGE PROGRAMS | Dr. K.SYED KOUSAR NIASI | View/Download |
| 275 | COMPUTER ORGANIZATION AND ARCHITECTURE -GENERAL REGISTER ORGANIZATION | Dr.K.SYED KOUSAR NIASI | View/Download |
| 276 | PC ADMINISTRATION | Dr.K.SYED KOUSAR NIASI | View/Download |
| 277 | COMPUTER ORGANIZATION AND ARCHITECTURE - DEFINITIONS OF SIMPLE TERMS | Dr.K.SYED KOUSAR NIASI | View/Download |
| 278 | MICROPROCESSOR FUNDAMENTALS - INSTRUCTION SET OF 8085(UNIT III) | Dr. K.SYED KOUSAR NIASI | View/Download |
| 279 | COMPUTER NETWORKS(DATA COMMUNICATION - UNIT I | Dr.K.SYED KOUSAR NAISI | View/Download |
| 280 | PC HARDWARE AND TROUBLESHOOTING (UNIT III, IV ,V) | Dr.K.SYED KOUSAR NIASI | View/Download |
| 281 | COMPUTER ARCHITECTURE - SIMD COMPUTER ORGANIZATION(UNIT -IV) | Dr.K.SYED KOUSAR NIASI | View/Download |
| 282 | PARALLEL PROCESSING - INTRODUCTION TO PARALLEL PROCESSING (UNIT I) | Dr.K.SYED KOUSAR NIASI | View/Download |
| 283 | COMPUTER ARCHITECTURE - PROGRAM AND NETWORK PROPERTIES(UNIT -II) | Dr.K.SYED KOUSAR NIASI | View/Download |
| 284 | COMPUTER NETWORKS - GUIDED MEDIA (UNIT - II) | Dr.K.SYED KOUSAR NIASI | View/Download |
| 285 | MICROPROCESSORS - PERIPHERAL INTERFACING (UNIT - V) | Dr.K.SYED KOUSAR NIASI | View/Download |
| 286 | Database Systems | S. Syed Ibrahim | View/Download |
| 287 | Database Management Systems | S. Syed Ibrahim | View/Download |
| 288 | Big Data Analytics | M. Abdullah | View/Download |
| 289 | Multimedia Systems and Design | M. Abdullah | View/Download |
| 290 | Operating Systems | M. Abdullah | View/Download |
| 291 | Software Engineering | M. Abdullah | View/Download |
| 292 | ABSTRACT WINDOW TOOLKIT -PART1 | Dr.S.Abdul Saleem | View/Download |
| 293 | ABSTRACT WINDOW TOOLKIT-PART2 | Dr.S.Abdul Saleem | View/Download |
| 294 | ABSTRACT WINDOW TOOLKIT-PART3 | Dr.S.Abdul Saleem | View/Download |
| 295 | Computer System Architecture | Dr. T. Abdul Razak | View/Download |
| 296 | Microprocessors Interfacing and Applications | Dr. T. Abdul Razak | View/Download |
| 297 | 8086 Assembly Lanuage Programs | Dr. T. Abdul Razak | View/Download |
| 298 | Computer Organization and Architecture | Dr. T. Abdul Razak | View/Download |
| 299 | Microprocessor Fundamentals | Dr. T. Abdul Razak | View/Download |
| 300 | SQL & PLSQL | M.RIYAZ MOHAMMED | View/Download |
Infrastructure
---
Particulars
Numbers
CLASS ROOM
35
SEMINAR HALL
2
COMPUTER LAB
10
LIBRARY
2
OUR RECRUITERS
---