Department of Fashion Technology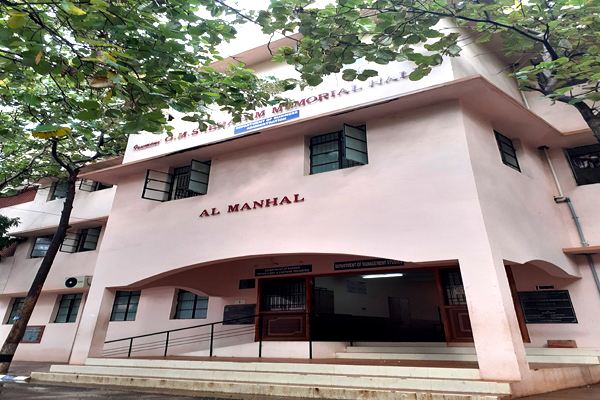 The Department of Fashion Technology keeping in mind the vision of our college management, who was well aware that students represent the future of our society and provides an opportunity to recognize the new style and trends in the fashion world.The Department is all set to mould the future of enthusiastic aspirants to the exciting world of Apparel, fashion and design. The Department of Fashion Technology and Costume Designing was established in the year 2008 and offers B.Sc. and M.Sc. courses accredited by Bharathidasan University, with the objective of imparting comprehensive knowledge about all faces of fashion industry to girls and empower them with all essential skills to cope up with the demands of their career.Curriculum is drawn with thought - provoking concepts in the field of fashion designing andit is accomplished through the dedicated efforts of the team of 12 competent, committed and learned faculties, Expert's support from the industry, 7 state-of- the-art laboratories equipped with latest software and equipments and a separate library. The department also offers a three year Skill development Bachelor of Vocation (B.Voc.) degree in Apparel and Fashion design from 2018 sponsored by UGC with multiple entry and exits such as Diploma/Advanced Diploma under the NSQF.B.Voc. is an emerging course that aims at providing adequate skills required for a particular trade to candidates. The course is different from traditional academic programmes as it deals more with application-based studies rather than focusing on only theoretical knowledge.From March 2022 onwards, our department also offers free short term training program, Sewing machine operator,funded by Ministry of Skill Development and Entrepreneurship, Government of India under PMKVY Scheme.The objective of this Skill Certification scheme is to enable Indian youth to take up industry relevant skill training that will help them in securing a better livelihood.
VISION:
To promote the holistic education for achieving academic excellence in the field of apparel and fashion technology and to become globally competitive department with social commitment and innovation in entrepreneurial sector.
MISSION:
► To provide quality education with innovative, contemporary and structured curriculum
► To impart hands on training with the help of infrastructure and professional lab facilities.
► To provide conducive atmosphere for teaching and learning equip with latest technologies and entrepreneurial skills.
ACADEMIC ADVISORY COMMITTEE
---
S.No
Name & Address
Contact Details
Category
1

Dr. K. Sangeetha

Professor and Head (Syndicate Member)

Department of Textile & Apparel Designing

Bharathiar University, Coimbatore-641046

Mobile: 984013466
E.Mail: sangeethatad@buc.edu.in

Academician
2

Dr. S. LakhsmiManokari

Professor and Head

Department of Textile&

Apparel Designing

Periyar University, Salem- 636011

Mobile: 9943997453
E.Mail: lakshmimanokari@yahoo.co.in
Academician
3

Dr. S. KarpagamChinnammal

Assistant Professor and Head

Department of Costume Design & Fashion

Chikkanna Govt.Arts College

Tirupur - 641602

Mobile: 9442170426
E.Mail:karpagamchinnammal@gmail.com
Academician
4

Dr. B. Senthilkumar

Assistant Professor

Department of Rural Industries & Management

Gandhigram Rural Institute

Deemed University

(Ministry of Education, Govt. of India)

Gandhigram-624302

Mobile: 9003032041
E.Mail: senthil.b1980@gmail.com
Academician
5

Mr. A.K.B. Nawas Babu

Managing Director

SA Knit Wears PVT Ltd

194 LIG Colony Main Road

K.K. Nagar, Madurai – 625 020

Mobile: 9894758264
E.Mail: nawasbabu@gmail.com
Industrialist
6

A.Lakshika

Head, Department of Fashion Technology

Bon Secours Arts and Science

College for Women

Ruckmanipalayam, Mannargudi-614001

Mobile: 9524124219
E.Mail:lakshuarul@gmail.com
Alumnus
Infrastructure
---
Particulars
Numbers
CLASS ROOM
5
LIBRARY
1
LABORATORY
7
OUR RECRUITERS
---