Department of Zoology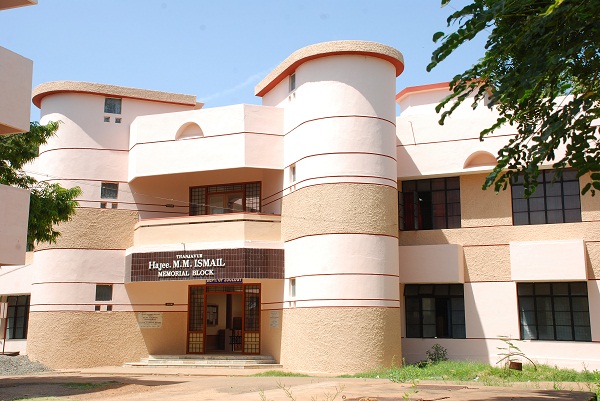 The Department of Zoology is one of the pioneering Research Departments of this college that came into existence along with the inception of the Institution offering PUC Inter Programme. The U.G. and P.G. programmes got affiliated during 1957 and 1969 respectively. The self-financing Evening Course M.Sc., Zoology later began in 1985. The stalwart Professors of the Department in the yester years laid a very strong foundation for Research so much so, the Department was elevated as the first Research Department in 1974 by the University of Madras. The M.Phil., Part Time Programme was started in 1983, chiefly to encourage College Teachers attain their minimum requirement of M.Phil., qualification existing then. Full time M.Phil., degree programme was then offered from 1985 onwards. A new vista in educating women students kicked off in 2018, when the department got affiliation for B.Sc., Zoology under Self Finance (Women) programme. Since the last two decades the Department has also been offering Career Oriented Programmes (COP) in Medical Lab Technology (One Year Certificate Course and Two years Diploma Course) approved and recognized by the UGC, New Delhi.
Since 2020-21, the UGC has also granted permission to offer Vocational Courses under NSQF scheme. A One Year Diploma in Aquaculture is being offered to students of any Science discipline along with internship programme and assured placements. We also offer short term Value Added Courses such as Ornamental Fish Keeping, Birds Keeping, Dairy Farming and Vaccine Technology that are job fetching & entrepreneurial.
The Department is supported by DST – FIST programme and is chosen as one among the 5 science Departments in the College for DBT – Star College Scheme. A remarkable number of research projects have been conducted by our faculty with financial assistance from agencies such as UGC, DAE, INSA, DST, BARC and MoEF to a tune of Rs. 1.43 Crores.
The Department so far has produced 52 Ph.Ds and one of our faculty has filed 13 Patents on Inter Disciplinary areas. The Department has well furnished computer facilities and laboratories provided with sophisticated instruments including Gamma & Radon Radiation Counting Systems. The recent addition to our common Instrumentation Centre is the Atomic Absorption Spectrophotometer with provisions for analysing a dozen of Heavy Metals with precision and accuracy.
The Bhabha Atomic Research Centre, Mumbai has entered into an MoU with our Department to carry out Assessment of Irradiation on Aquatic Biota in 2009. Our students are progressing well and every year they bring laurels to their Alma Mater obtaining University Ranks in the Combined Ranking University Exams conducted by the University for the Autonomous Institutions. Our Alumni spread around the globe are well placed and are doing extremely well with the motto "Each one, Teach one".
Our Zoological Museum is yet another Hall Mark of the Department with models of ecosystems and a collection of several rare and unique specimens attracting a lot of visitors in and out of the College.
The Pride of the Department is its dedicated team of Staff Members who strive to reach excellence and go beyond excellence imploring the Almighty daily the very motto of the college "SHOW US THE RIGHT PATH".
E-CONTENTS
---
SORRY NO UPDATES !