Department of Chemistry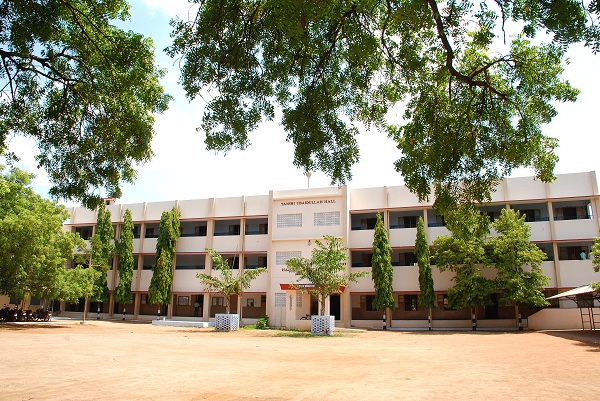 The Department of Chemistry started in the year 1953 is one of the founding departments of this premier Institution. It offers UG, PG, M.Phil. and Ph.D. programmes.
Vision
To produce academically sound, analytically skilled, technologically advanced and socially committed chemists through quality and value based education.
Mission
► To foster the students through the effective teaching of fundamentals and advanced concepts of chemistry and enable them to get employment for serving the local, national and global communities..
► To produce self-motivated graduates with human values who can contribute for sustainable development and well-being of the self and the society
► To offer consultancy services in various industrial fields by conducting quality research in the frontier areas of Chemistry and interdisciplinary fields.


SALIENT FEATURES OF DEPARTMENT
► 19 research supervisors involved in research pertaining to their chosen fields such as Organic, Inorganic, Polymer, Nano, Environmental, Phyto and Electrochemistry.
► Major, Minor and Seed Money Research Projects grant Received – Rs. 61,23,000/- From Funding agency UGC, Ministry of Environment and Forests and TNSCST See
► Research patents filed – 16 and Granted – 3.
► FT-IR, UV-Visible Spectrometer Instruments are available
► DST-FIST and DBT-Star College Scheme Funds received
THRUST AREAS OF RESEARCH
► Analytical Chemistry
► Bio chemistry
► Corrosion science
► Environmental Chemistry
► Inorganic metal complexes
► Synthetic organic
► Pytochemistry
► Physical Chemistry
► Nano chemistry
► Photochemistry
► Surface chemistry
► Metal inhibitor
► Metal coatings
► Water analysis
► Material chemistry
BEST PRACTICES
► Advanced Learners Forum: Students are encouraged to participate in the Seminars / Competitions by the Senior Students. (initiated in 2016)
► Inter-Collegiate Meet – JAM – CHEM – FEST - Annual Events
► Chemistry Association organizing Special Lecture Programmes
► Our students actively participating in Co-curricular and Extra-curricular activities
FUTURE PLANS
► To expand our research collaboration with leading research institutions at national and international levels
► To offer consultancy services to chemical and pharmaceutical industries
► To establish an incubation centre at the Department level
► To train the students in developing value-added products from waste materials.
ACADEMIC ADVISORY COMMITTEE
---
S.No
Name & Address
Contact Details
Category
1

Dr. H. Nagaswarupa

Associate Professor of Chemistry

Department of Studies in Chemistry

Davangere University, Shivagangothri

Davangere – 577 007, Karnataka

Mobile: 9945406900
E.Mail: nagaswarupa77@gmail.com

Alumnus & Academician
2

Dr. Srinivasan Anandan

Scientist - E, Centre for Nano - Materials

International Advanced Research Centre for

Powder Metallurgy and New Materials (ARCI)

Hyderabad – 500 005, Telangana

Mobile: 9989677949
E.Mail: anandan@arci.res.in, sanandpcat@gmail.com
Alumnus, Academician & Scientist
3

Dr. S. Selvakumar

SCI-SE

Solid Propellant Space Booster Plant (SPROB)

Indian Space Research Organisation (ISRO)

Sriharikota, Nellore (Dt) – 524 124

Andhra Pradesh

Mobile: 9440151854
E.Mail: selvakumar.s@shar.gov.in
Alumnus & Scientist
4

Dr. A. Ilangovan

Professor, School of Chemistry

Bharathidasan University

Tiruchirappalli – 620 024

Mobile: 9865436093
E.Mail: ilangovan@bdu.ac.in
Wellwisher and Academician
5

Dr. P. K. Mohamed Imran

Associate Professor

PG and Research Department of Chemistry

Islamiah College (Autonomous), Newtown

Vaniyambadi - 635 752

Mobile: 9443270170
E.Mail: imranpk@live.com
Wellwisher and Academician
Infrastructure
---
Particulars
Numbers
Class Rooms
8 + 5(SF)
UG Laboratories
2
PG Laboratories
2
Research Laboratories
2
Department Library
1
Instrumentation Room
1
Store Room
2
Class Rooms
5
OUR RECRUITERS
---