Department of English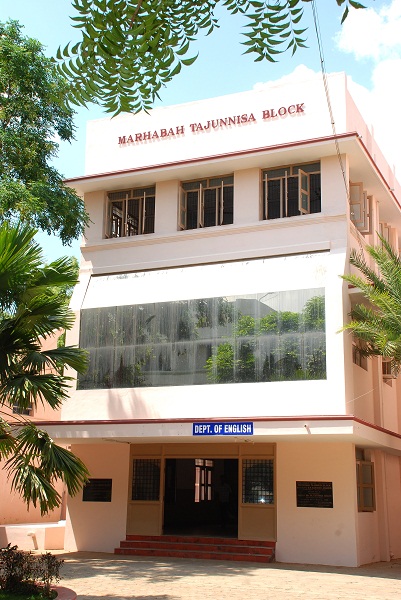 VISION
To dedicate in the dissemination of knowledge in English Language and Literature, by offering value added and socially relevant programmes with a focus on Research for Academic Excellence.
MISSION
Ø To provide an inspiring atmosphere for developing language skills and personality of students for career opportunities.
Ø To inculcate and nurture ethical, spiritual, moral and human values through teaching of language and literary texts.
Ø To help students in attaining critical thinking, confidence and creativity in curricular, co-curricular research and extension activities for success in life.
PROFILE OF THE DEPARTMENT
The Department of English, in tune with the institution's glorious academic record continues to raise its bar by nurturing literary and language scholarship. The UG Department English was established in 1963 and upgraded as a PG Department in 1966. It became a research department in 1988 under aided stream. The benevolent management also offers two streams of unaided men and women programmes for the past 22 years. The department has been the hub for teaching and research activity attracting a cross-section of students and research scholars from different parts of the country. A Potential band of teaching fraternity is also equipped with requisite skills and core values for high achievements of learners to shape the destiny of our Nation.
The syllabi of the Department is framed in such a way that it has a wide coverage over language and literature for undergraduate and postgraduate students. Reading literatures in English alongside literary narratives in Indian languages has certainly promised our students with deeper insights.
At the graduate and post-graduate level the Department of English offers papers like poetry, drama, prose and fiction of Indian, American, British and Canadian literature thus offering good training for UGC-NET, SET aspirants. A strong theoretical foundation is laid with the papers on Literary Theory, ELT and Research Methodology. The students are also offered with special papers like Developing Leadership Qualities and Personality Development, which would enable them to make use of the opportunities. The department has been producing a great number of University Rank holders in Undergraduate and Postgraduate courses.
The library of the department stands unique with its huge collection over 14000 books. It subscribes to several periodicals and journals for the benefit of the students. It is one of the best libraries in Tamil Nadu with a huge collection of books.
The Department has initiated an Institutional Chapter with ELTAI (English Language Teachers' Association of India) from May 2022 onwards.
ACADEMIC ADVISORY COMMITTEE
---
S.No
Name & Address
Contact Details
Category
1

Kavignar Iyya Thangam Moorthy

Correspondent & Principal

Sri Venkateshwara Matric

Higher Secondary School

Pudukkottai - 622002

Mobile: 0432 2236 853
E.Mail: kaviyamoorhti@yahoo.com

Well wisher
2

Prof. K. Mohamed Ali

Former Professor of English

Jamal Mohamed College (Autonomous)

Singapore

Mobile: + 6585911234
Well wisher
3

Mr. Emmanuel Aathi

Educationist & Senior Advisory

Consultant in Education

Training & Development, Chennai

Mobile: 9840094333
Well wisher
4

Mr. A.H. Anwar Sadath

Educationist

Ideal Indian School

Doha, Qatar

Mobile: +974 66266517
Alumnus
5

Prof. G. Raveendhiran

Educationist & Communication Trainer

Former Professor & Head

Department of English

St. Joseph College (Autonomous)

Tiruchirappalli - 620020

Mobile: 9842476848
Well wisher
Infrastructure
---
Particulars
Numbers
Class rooms (Aided)
6
Class rooms (SF-MEN)
3
Class rooms (SF-WOMEN)
8
Department Library (Aided)
14237 Books
Smart Class Rooms (Aided)
4
Smart Class Rooms (SF - Women)
2
Department Library (SF - Women)
1025 Books
OUR RECRUITERS
---