Department of Physics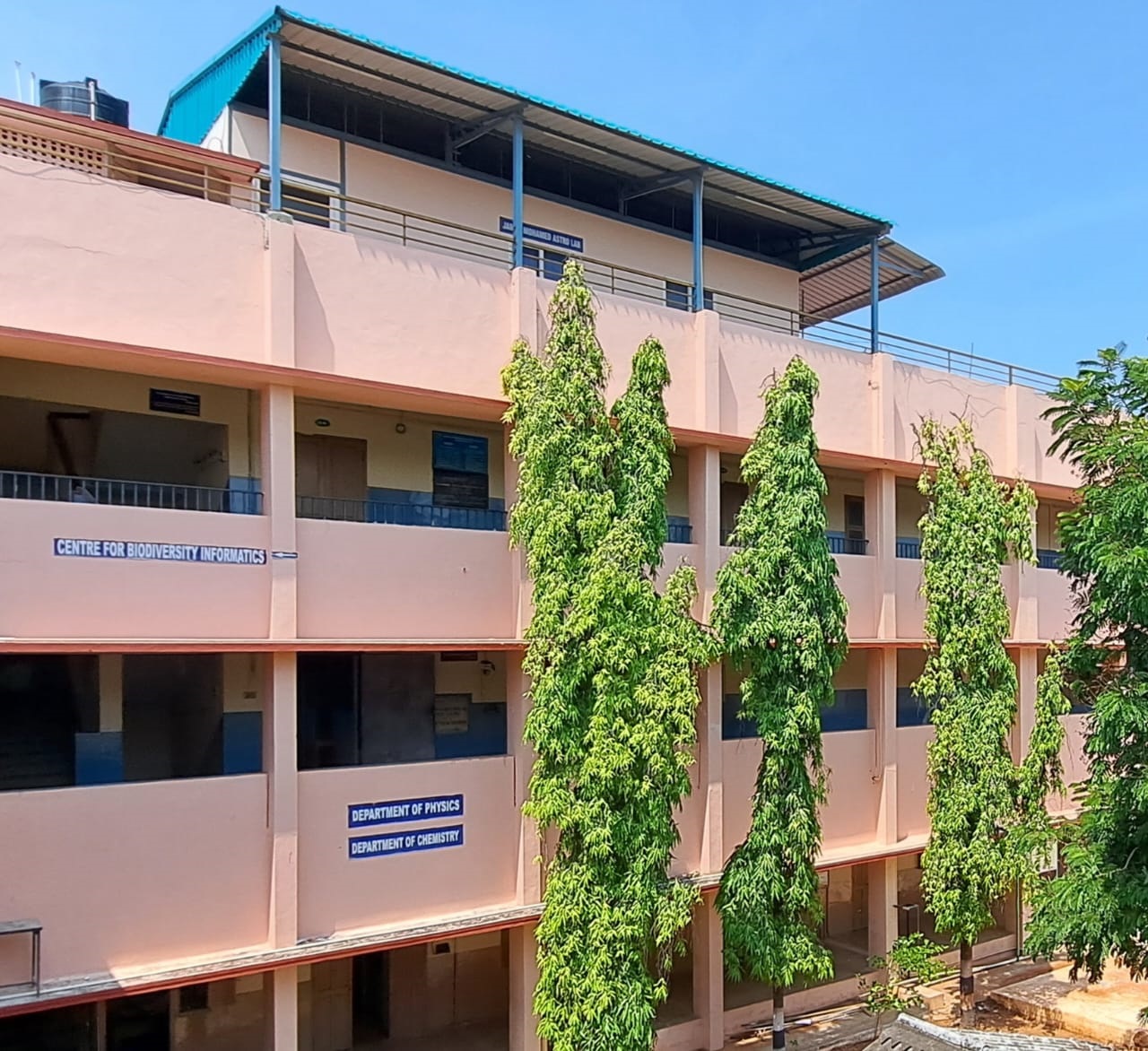 The history of the Physics Department is closely intertwined with the history of our college. Right from its inception in 11th July 1951, the department has grown together in strength, imparting quality education in basic sciences to the needy and weaker sections of the society.
The department is proud to boast of a fully fledged Physics Laboratories. Notable among the equipments are Constant Deviation Spectrometer, Michelson Interferometer, Laurent's Half Shade Polarimeter, Fabry-Perot Etalon, Electron Spin Resonance Spectrometer, Guoy's Balance, Quincke's Apparatus, Hall-Effect Apparatus etc.
Playing to its strengths, the department has identified certain major thrust areas for its research programmes, namely Ultrasonics, Spectroscopy, Medical Physics, Crystal Growth, Non-linear Dynamics and Nuclear Physics.
The Ultrasonic Laboratory set up in the department boasts of Pulse Echo Meter, Variable and Constant Frequency Ultlrasonic Interferometers, LCR Meter, Digital Conductivity and pH meters and Perkin Elmer UV Spectrophotometer.
The notable equipments of the Crystal Growth Laboratory are the Vicker's Micro Hardness Tester for testing of crystal hardness and Muffle Furnace for annealing crystal specimen with temperature varying from Room Temperature to 10000 C.
A common Computer laboratory for the students of Physics and Chemistry having thirty computers with dual OS and requisite software has been established so as to pool the resources effectively.
Currently the department has completed two major research projects with Dr. A. S. Haja Hameed as the Principal Investigator.
1. Implementation of Two Zone Growth Method to the growth of high quality L-arginine family crystals for second harmonic generating (SHC) elements and electro-optic modulators.This is sponsored by the Science and Engineering Research Board, a statutory body under the Department of Science and Technology, Government of India, to the tune of Rs. 22,50,000/-
2. Crystal Growth of Technologically important nonlinear optical material: DAST and Fabrication of Optical Devices for ready commercialization. This is sponsored by the University Grants Commission (UGC), Government of India to the tune of Rs. 11,74,167/-

VISION:

To become a world class center of excellence for teaching, learning and research in Physics.

MISSION:

To offer young aspirants, irrespective of their socio-economic backgrounds, the best of Physics Education and Research Facilities by combining

► Student centric classroom methodologies

► Participative learning through innovative laboratory practices

► Experiential learning and research exposure through tie-ups with reputed industries and institutes

ACADEMIC ADVISORY COMMITTEE
---
S.No
Name & Address
Contact Details
Category
1

Prof. K. Ganesan

Director Department of Software

Systems Engineering

Vellore Institute Technology

Vellore - 632014

Mobile: 9566656763
E.Mail: kganesan@vit.ac.in

Alumnus
2

Prof. K. Jeganathan

Director Centre for Nanoscience

and Nanotechnology

Department of Physics

Bharathidasan University

Tiruchirappalli - 620 024

Mobile: 9894546936
E.Mail: kjeganathan@bdu.ac.in
Alumnus
3

Dr. S. Beer Mohamed

Associate Professor

Department of Materials Science

School of Technology

Central University of Tamil Nadu

Thiruvarur - 610 005

Mobile: 9944602991
E.Mail: peermoha@gmail.com
sbmohammed@cutn.ac.in
Alumnus
4

Dr. S. Manivannan

Associate Professor

Department of Physics

National Institute of Technology

Tiruchirappalli - 620 015

Mobile: 9629505060
E.Mail: ksmani@nitt.edu
Alumnus
5

Dr. D. Sajan

Associate Professor & Head

Department of Physics

Bishop Moore College

Mavelikara - 690110

Mobile: 9495043765
E.Mail: drsajanbmc@gmail.com
Alumnus
Infrastructure
---
Particulars
Numbers
No. of Class Rooms (Aided)
5 ( Area:1725 Sq.Feet)
No. of Class Rooms (Unaided)
5 ( Area: 3414 Sq.Feet)
Number of Labs (Aided)
4 (Area: 5675 Sq.Feet)
Number of Labs (Unaided)
1 (Area: 924 Sq.Feet)
Research Laboratories
2 (Area: 840 Sq.Feet)
Co-curricular Laboratories
Astro Lab (Area: 1800 Sq.Feet)
PCB Lab (Area: 90 Sq.Feet)
Books in Department Library (Aided)
7297 (Area: 774 Sq.Feet)
Books in Department Library (unaided)
675
Number of Computers
50 (Area: 620 Sq.Feet)
OUR RECRUITERS
---